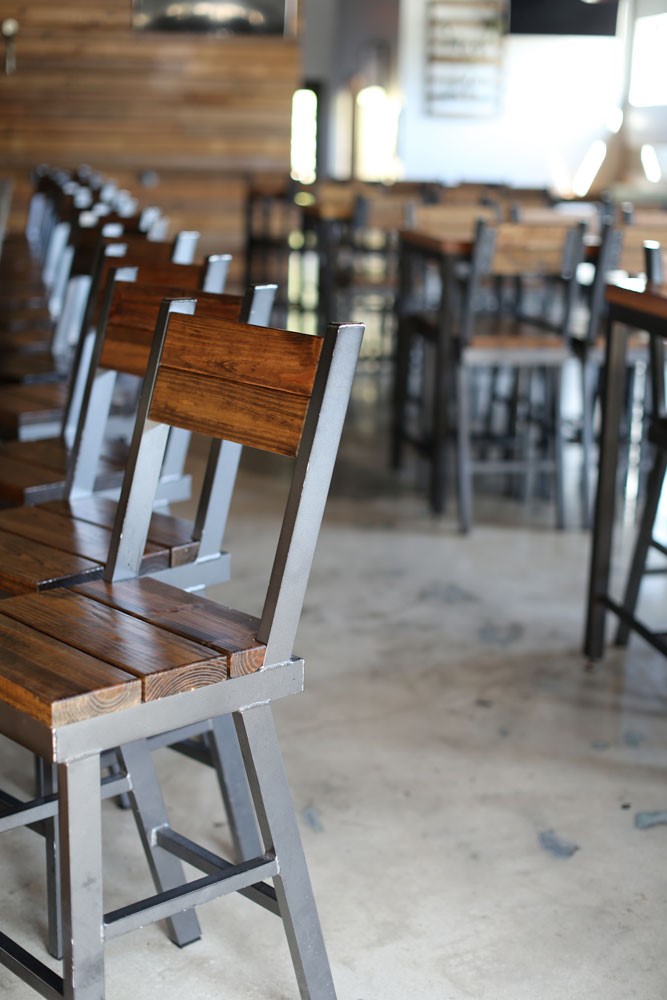 Functional, Stylish Furniture Stars in Commercial Settings
Restaurants and bars face an inordinate number of hurdles in order to survive. Location is king. Then there's atmosphere and, of course, the food itself. Providing a welcoming venue with comfortable seating that makes people want to linger and, most importantly, return again, adds to the challenge.
The furniture in these establishments must help create a certain vibe within the space but be rugged enough to stand up to constant traffic.
Our new Furniture Collection offers a variety of pieces that are not only substantial enough to withstand heavy use, but are handcrafted with attention to every detail resulting in beautifully stylish pieces.
At a local restaurant and brewery here in Titusville, Florida, where Barn Light Electric is located, our Mitchell Bar Stools offer a solid place to enjoy a pint of craft beer. Embracing a rugged industrial aesthetic, the Mitchell's frame is constructed from sturdy aluminum while solid wood is used in the bar stool's ladder back and square seat.
Easy to customize with numerous wood options and powder coat finish colors, the Mitchell Bar Stool can be crafted to complement most any restaurant décor.
For dining tables, the Mitchell Chair incorporates the same look as the bar stool but in a shorter height. Just like its taller cousin, the Mitchell Chair is handcrafted in-house by our wood artisans with an eye to highlighting the beauty of each unique piece of wood. Finished by hand with options for wood, sheen, and metal finishes, these chairs will last for years to come.
Communal settings are increasingly popular in restaurants and bars with friends and strangers gathering together to share space and meals. Our Warner Bar Table features a heavy-duty steel frame and high-quality wood to ensure the durability required in high-traffic settings. With tall legs and 84″ surface, the Warner comfortably seats up to eight people. Locking wheels allow portability, or customize with adjustable feet to ensure a level surface.
American made with a casual, industrial vibe, the Warner Table is carefully crafted to offer our commercial customers stylish and comfortable options for their customers. For questions on any of the pieces in our Furniture Collection, call 800-407-8784 or contact us via email at sales@barnlight.com or via Live Chat from our home page during regular business hours.