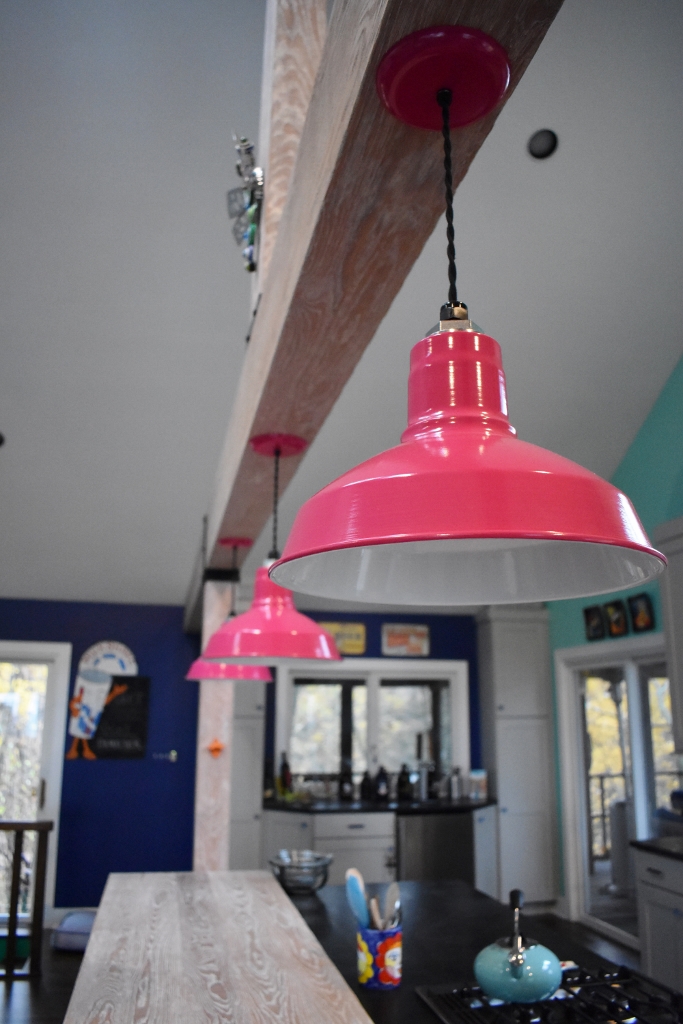 Colorful Barn Lights Add Personality to Vacation Cottage
Although Paula loves time spent with family in their Sawyer, Michigan, vacation home, the functionality of the space was lacking for their get-togethers.
"We needed a larger, open space to make the flow better for summer weekends when we often have a big crowd," Paula, an interior designer, explains.
And, as with many remodeling efforts, Paula's project snowballed. Since the footprint changed, flooring had to change. In the end, Paula also had new cabinetry, counters, appliances, and lighting.
The town of Sawyer lies on the eastern shores of Lake Michigan, and Paula chose a "modern beach" feel for her home. Plenty of color accents the space including a yellow island which anchors the kitchen.
"I also found a wonderful company in California to do the backsplash tile which I carried over to the fireplace surround," Paula notes. "Soapstone counters complete the feel. We see it as sand, sea, and sky in terms of both the feel of the materials and the color choices."
Paula wanted bold, unfussy barn lighting to stand against the rustic beams of the adjoining living space. She chose 12″ Dino Pendant Lights to accent the new island.
"I knew I wanted three pendants to balance out the 11-foot island. The size and shape of the Dino were right on," she says. "I love pink and wanted to bring it in a way that popped but wasn't scene-stealing. I love the vibrancy of the magenta finish, and the black cotton twist cord adds a small design element too."
Over the sink, two matching Dino Wall Sconces, also with 12″ shades and Magenta finish, bring light to that side of the galley kitchen.
"The space is open so I wanted continuity with the lighting," Paula says. "The pop of pink is perfect between the light dove cabinetry and the white windows."
Paula also had the exterior re-sided and chose nine Industrial Guard Sconces to accent the walls. These nautical style sconces feature a Buttery Yellow finish and ribbed glass to slightly diffuse the light.
"We wanted a pop of color against the gray siding and blue soffitts," she says. "The yellow seemed to offer a wonderful, soft pop, and the ribbed glass has a rustic feel that suits the home's location." The wire guard adds protection to the glass and bulb while adding another layer of color to the fixture.
"We love the clean, uncomplicated pops of color the lights give us," Paula says. "They make me happy every time I walk in!" You can read more about Paula's remodel on her website Home Pop!
Photos courtesy of the homeowner