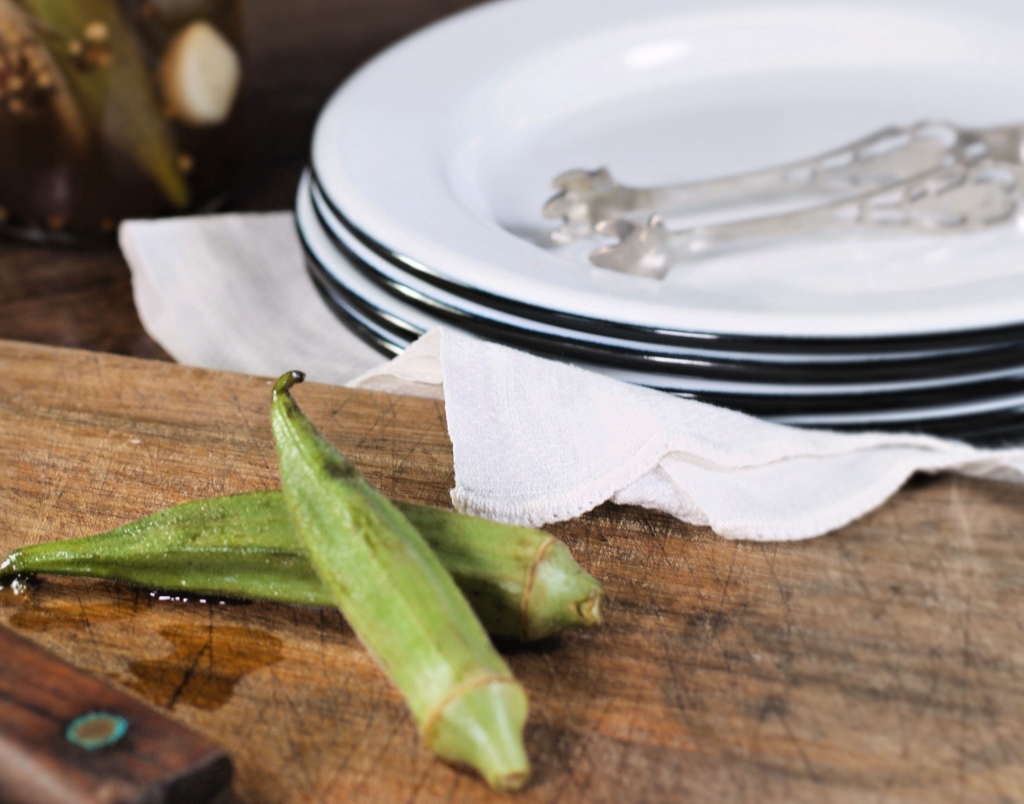 Food Bloggers' Favorite Dishes on Enamelware for Thanksgiving
What is the most irritating thing about shopping this time of year? It's not the lack of prime parking at the mall or even the pre-Black Friday crowds. No, it's hearing Jingle Bells and Here Comes Santa Claus ringing through the air a good two months before Christmas. The start to the holiday season seems to start earlier each year, but we're here to say, "Not so fast!"
Don't discount Thanksgiving! What could be better than a day filled with football, family, and, the star of the day, the food? And not a single present to wrap!
To help get you ready for next Thursday's feast, we asked three foodie friends to create recipes for an appetizer, side dish, and dessert. (We assume you have the bird under control!) Bloggers Milisa, Wendi, and Melissa gave it their best shot and we're happy to share the tasty results below.
Wendi, who writes the blog Loaves and Dishes, whipped up some refrigerated pickled okra to use in making appetizers. Her post demonstrates how easy it is to make pickled okra and offers a variety of ways to pair the low-cal veggie with cheeses, meats, and other veggies for colorful and creative snacks.
These delightful little appetizers look even better on our Graniteware Dessert Plates. Wendi chose to customize her new porcelain enamel dinnerware with a Cobalt Blue finish on the bottom of each plate and a white top. These handcrafted plates are spun from raw steel then finished with multiple layers of porcelain enamel glass.
Thanksgiving dinner would not be complete without fluffy dinner rolls. Melissa writes the blog Lulu the Baker where she shares recipes with a Scandinavian flair. These amazing dinner rolls just might steal the spotlight from the turkey on the table!
Melissa is a long-time fan of Barn Light Electric as she has purchased our lighting for her modern farmhouse in Oregon over the years. When perusing our Porcelain Dinnerware Collection, she decided the Enamel Graniteware Salad Bowl would be perfect for presenting her dinner rolls at the table.
Melissa customized this American-made bowl with a creamy Jadite-and-Black Speckle finish on the outside and White on the inside. The bowl measures over 10″ wide and is also available in Delphite, Graphite, and Cobalt finish colors.
No matter how many helpings of turkey, gravy, and rolls you manage to eat, there's always room for dessert! And Milisa from Miss in the Kitchen, dishes up a sweet southern favorite — Sweet Potato Pie! This recipe is not only easy to make thanks to Milisa's step-by-step recipe and beautiful photos, but it may just bump pumpkin out of the top spot for favorite pie!
Milisa's newest creation cooked up perfectly in our Special Edition Enamelware Pie Plate, part of our Bakeware Collection. This pie plate features a White finish with a pop of Cobalt Blue around the rim making it a lovely complement to any kitchen decor.
Like all of our porcelain enamel lighting and dinnerware, the Special Edition Pie Plate is handcrafted from solid porcelain steel. The enamel color is applied by hand and fused to the pie plate in our special porcelain enamel oven. This combination of high-quality metal and porcelain enamel creates a durable pie plate destined to become a family heirloom!
Photos courtesy of Loaves and Dishes, Lulu the Baker and Miss in the Kitchen