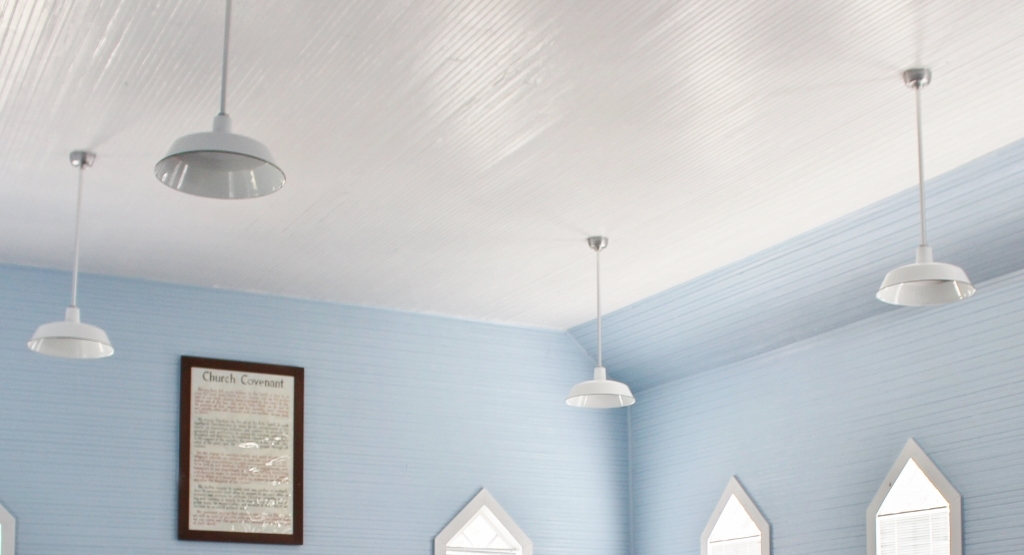 Porcelain Barn Pendants Grace Historic Florida Church
We love good before-and-after photos! They often show dramatic transformations, but can also visually demonstrate what a difference one single element, like good lighting, can make.
Last week, we visited the Pine Grove Missionary Baptist Church in nearby Christmas, Florida, where Clarence Canada, a trustee of the church gave us a tour of the historic building.
"The first church was built in 1868, but a fire destroyed it," Clarence told us as we entered the cozy sanctuary. "This building was erected around 1906-1908." The sanctuary has been lit by different styles of fixtures over the years and, lucky for us, Clarence shared photos to offer a glimpse of the history.
This photo, which he thinks was taken sometime in the 1940s, shows a classic, vintage barn pendant hanging from above. This might have been a Benjamin® Industrial Pendant which were common at that time or perhaps a Crouse-Hinds Porcelain Pendant, another industry standard of the day.
The porcelain enamel pendants were removed at some point and replaced by fluorescent lights. This photo was taken in the 70s or 80s, Clarence believes, when fluorescents were commonly used in public spaces. When the church elders decided to undertake some renovations of the church recently, Clarence wanted to go back to the barn style lighting used previously.
"We were trying to replicate what was here before," he notes. "We didn't really like the industrial look of the fluorescent lights. We have the original windows, original floors, and original pews so we wanted the lights to lend themselves to that earlier period."
After searching online, Clarence discovered Barn Light Electric located just 20 minutes away on the central Florida coast. He visited the showroom in person and worked with Paige and Lauren on our sales team to select the perfect lighting. Six new Original™ LED Stem Mount Pendant Lights now highlight the sanctuary.
These handcrafted pendants feature 20″ shades with a White finish and a 36″ Brushed Aluminum stem. Clarence also chose a 4000 lumen LED with a 3000K neutral white color temperature. The energy efficiency of these Porcelain Enamel LED lights will help save money on the church's electric bill and save Clarence from time on a ladder changing light bulbs.
All of Barn Light Electric's LED lights feature integrated LED modules that provide at least 50,000 hours of service. The light shades are handspun in our manufacturing facility, coated with multiple layers of porcelain enamel glass, then finished by hand to ensure the highest quality.
Clarence grew up in this little church which has played a big part of his life. His family has been in Christmas since the 1800s, and he tells the story of when Hurricane Donna roared through in 1960. The storm's 145-mph winds pushed the church off its foundation.
"I remember my dad and my uncle running a cable around the church and hauling it back onto the foundation with their tractors," he says. The responsibility, dedication, and love of taking care of the church in the pine grove passed from father to son.
"We were excited about this retrofit as our church celebrated our 150th anniversary this year," Clarence says. "God placed it in the hearts of folks to have a church building where we can still assemble together. We're happy with the results."