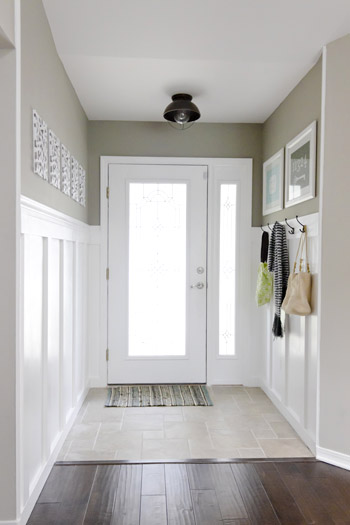 Flush Mount Ceiling Light Refreshes a Rustic Entryway
For those looking to give their home a fresh new look, let's focus on a few key rooms. Bedrooms, kitchens, and bathrooms usually get the majority of attention in remodels as well the exterior spaces. But for some reason, foyers and hallways are often neglected even though they are some of the easiest areas to refresh. Slap on a fresh coat of paint, maybe add some new artwork, and you've got a whole new space!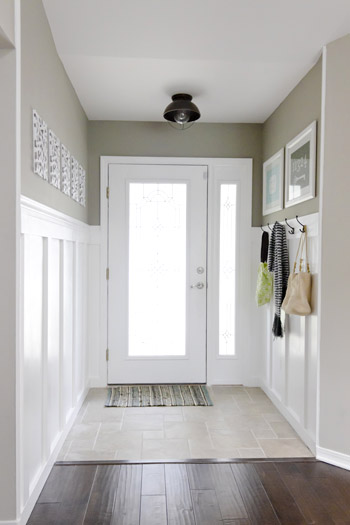 This entryway once was bursting at the seams with 1990s decor, from iridescent wallpaper to glistening white tile meeting up with old beige carpet. Sure, this was a good look at one point in time, but with the innumerable design concepts out there now, it's easy to switch up a room. Adding white wainscoting with the moss green paint above was a good move as it makes the narrow space appear taller.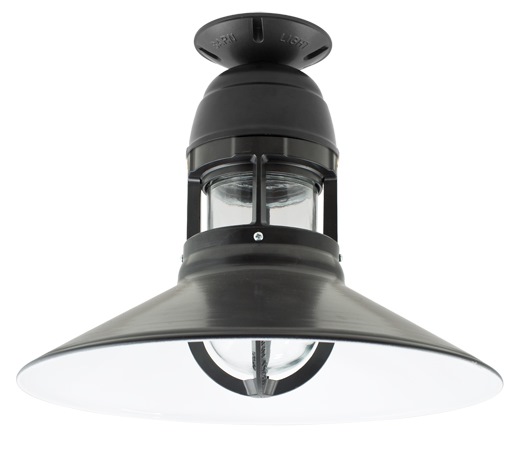 Another great addition to the room? The flush mount ceiling light above. While the woodwork on the wall creates a visual illusion, a surface mount fixture similar to the Wallaby Flush Mount Pendant adds that last little bit of an industrial touch. Combine that with the wire guard across the rim of the shade, and this homeowner created the perfect combination of rustic and factory often referred to as industrial farmhouse styling.
The Wallaby Flush Mount Pendant is part of our collection of American-made Ceiling Pendants. Hand spun by our own craftsmen from commercial-grade materials, these ceiling lights are available as flush mounts, cord hung or stem mount pendants. By providing multiple options and similar styles, you can easily streamline your lighting throughout your home for a completely unified look.
Top Photo Courtesy of Jenna Sue Design