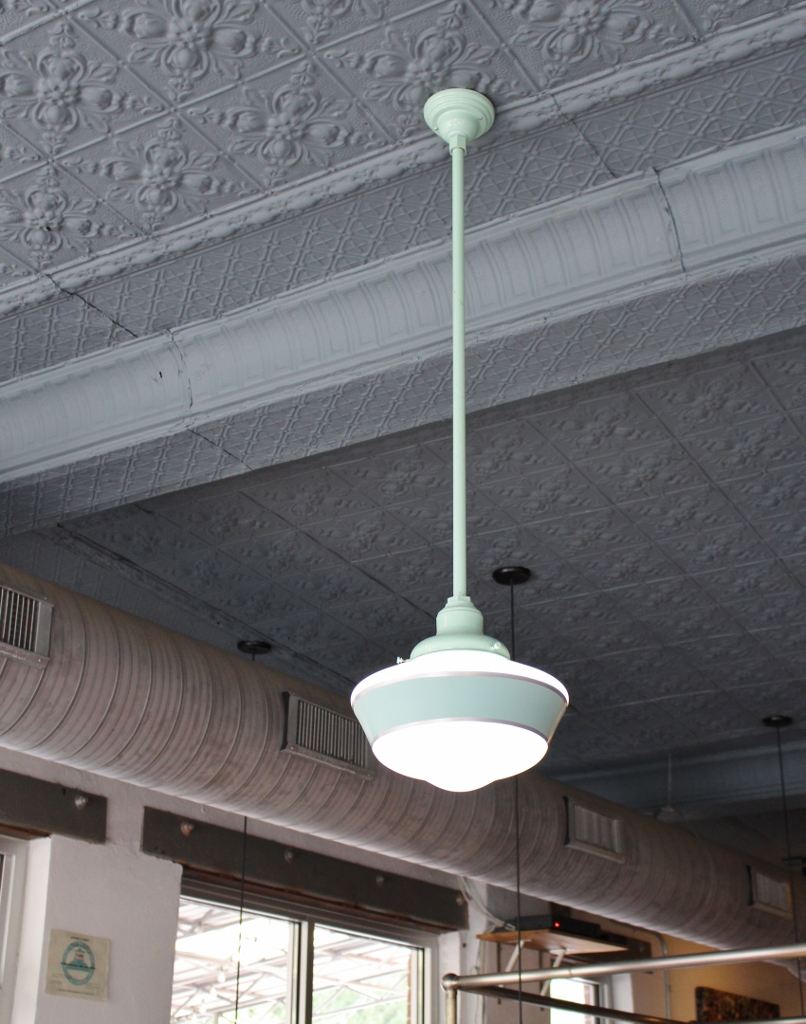 Vintage-Inspired Lighting Adds Color, Retro Feel to Historic Building
If you've never tried the seemingly unusual pairing of chicken and waffles, then add King Daddy's to your bucket list. Located in Asheville, North Carolina, King Daddy's delights locals and tourists alike with fluffy waffles topped with tasty chicken. Julie Stehling and her husband John opened the restaurant four years ago in the historic Mardis Building in west Asheville.
"Our entire building was remodeled as part of a historic redevelopment," Julie says. "It was originally built in 1925, and, over the years, our space housed a cafe, a furniture store, and an appliance store." As the couple worked on the renovation, they sought to keep the space clean and bright to highlight the historical features which include a beautiful tin ceiling.
"We prefer simplicity and recycled materials, but the pops of color provided by our booths and lighting also convey the fun feeling of our food," Julie explains. "We take quality seriously, but chicken and waffles have got to be fun!"
For the booth areas, Julie selected the Sinclair Industrial Pendant Light for its simple lines. She customized these porcelain enamel pendants with 10″ shades, a Jadite finish, and Black cotton twist cords. The shades also feature a polished nickel socket with a knob switch.
"We love the color of these, and the shape of the fixture lights the booth exactly as we hoped," she notes. "The booths are such a big statement that we needed a light that complemented them but didn't compete with them. The simple lines on these pendants suit our aesthetic perfectly."
As guests enter the restaurant, they are greeted by a Primary Schoolhouse Stem Mount Light near the hostess stand. This schoolhouse light draws the eye up to the beautifully detailed tin ceiling. This pendant is customized with a large globe, Jadite fiter, canopy and stem, plus a band of Jadite color on the globe.
"The placement of this fixture welcomes our guests and helps set the tone of the space," Julie says. "We think the large globe and color do that nicely. We love the retro look of this fixture!"
While their new, American-made lighting caps off the successful renovation of the space, Julie admits that choosing fixtures was overwhelming. A good friend, LeAnn Bound with Greencraft Builders in Asheville, suggested they check out Barn Light Electric.
"Ordering from a specialty company matters to us, and everything we saw at Barn Light appealed to us stylistically," she says. "The lighting we chose not only brings warmth and clarity to our space, but the pendants are interesting and creative without trying too hard."