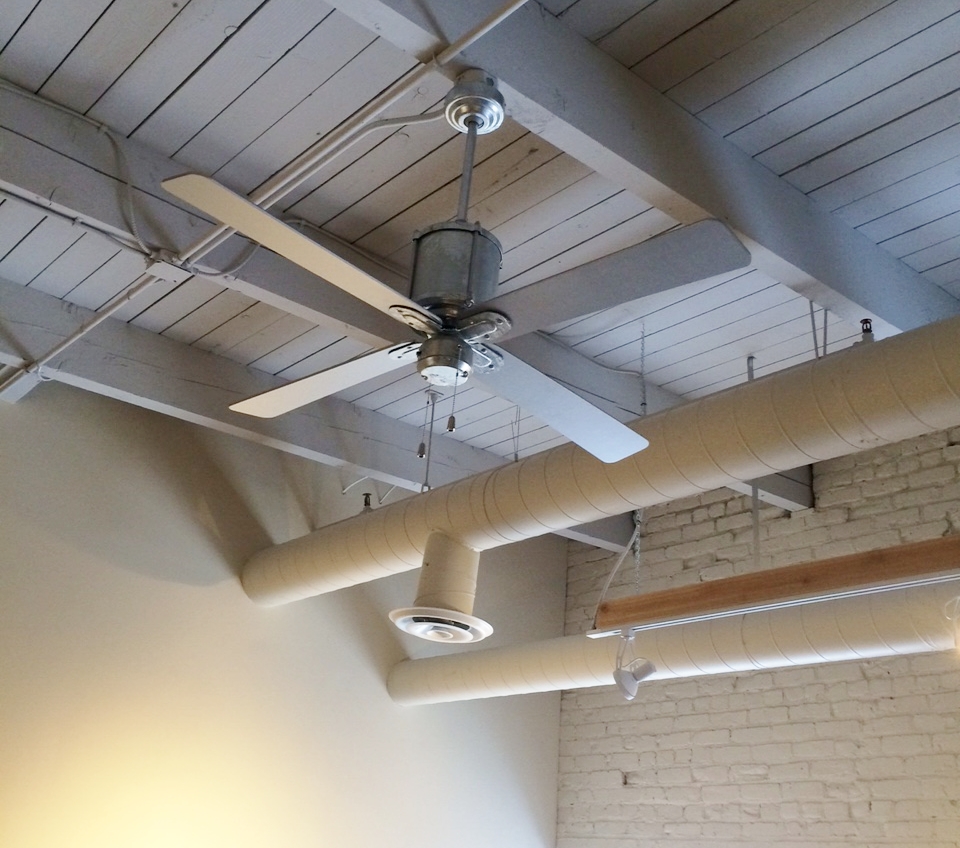 Vintage Ceiling Fans Cool Office Space with Style
In many cities across the country, long-shuttered manufacturing facilities are finding new life as retail stores, restaurants, and even living spaces. Just north of Minneapolis in the historic Warehouse District, the Designer's Guild Building offers its tenants thoughtfully planned and preserved spaces with high ceilings, large picture windows, exposed brick walls, and rustic wooden beams spanning the multi-story atrium entrance.
Charlie Cremers, property manager and co-owner of the building, works hard to keep the building in first-class shape and, during a recent renovation, he purchased vintage ceiling fans to not only help move the air but to add some vintage style to the space.
"This is a 3,770-square-foot office space, and the tenant was looking for ceiling fans that offered functionality but were also aesthetically pleasing," Charlie says. He found the perfect blend with the Machine Age Galvanized Ceiling Fan which complements the industrial characteristics of this historic building.
The Machine Age Fan features a galvanized motor housing and 100 percent galvanized metal blades which come in both 42″ and 52″ spans. Charlie chose the larger-sized blades and customized them with a Silver finish and 12″ downrods. Other blade color options include Black, White, Maple, and Mahogany.
"The tenant really wanted an industrial look to the fans and the Machine Age Fan was the obvious choice for us," Charlie says. "They not only look great but they help with our energy bills by keeping the cool air moving in the summer. They fit in so nicely with the exposed conduit and other industrial touches in this space. The tenant was very pleased with the look."
The Machine Age Galvanized Fan can be further customized with a light kit consisting of a classic RLM warehouse shade or a cast guard and glass fixture. Fan speed and light controls are also available in hand-held or wall mounted units.
Photos courtesy of Designer's Guild Building