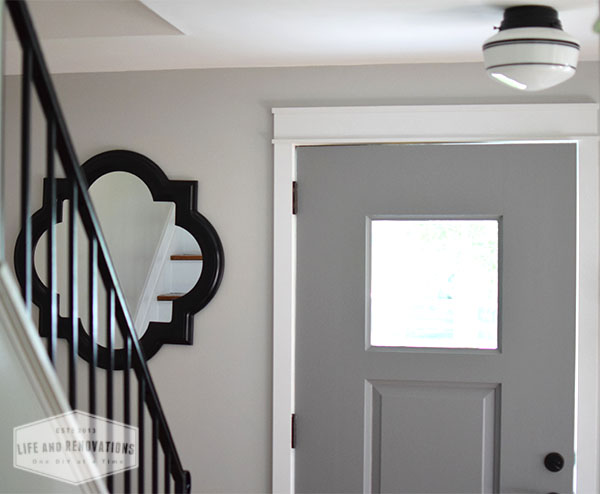 Schoolhouse Lighting Adds Character to Basic 80's Colonial
So what do you do when your dream house is a 1920s Craftsman style home but you live in an 80s-era Colonial?
You renovate! And then you start a blog to share your successes, and stumbles, with the world. That's what Teresa of Life and Renovations did when she and her husband purchased a home almost two years ago in the suburbs of Pittsburgh.
"I love Craftsman homes with big mouldings, built-ins, and lots of character. This house is a basic Colonial which is about as far from a Craftsman as you can get!" Teresa says. "My biggest goal has been to add character to the house." Teresa chose a mostly white, grey, and wood color scheme and, as the renovations took shape, she fell in love with the rustic farmhouse look.
The hallway upstairs was too narrow for any decorations so Teresa added board and batten on the walls and changed out faux wood doors to 3-panel craftsman-style doors all in white and grey to lighten the look. To add color, she chose a small Primary Schoolhouse Semi-Flush Mount Light customized with Barn Red bands, canopy, and fitter from our Schoolhouse Lighting collection.
"I fell in love with this light immediately! It is so eye catching yet has a simple, timeless style and shape to it that I just love," she notes. "I really wanted a light fixture that could stand on its own and add additional character to the space. It's sizeable enough to make its presence known yet small enough that no one has to duck to get underneath!"
Teresa faced a similar space issue in her foyer. With only a 10″ clearance from the ceiling to the top of the door, her choice for an entryway light was limited.
"Anyone that has ever shopped for flush mount lights knows their options are seriously limited," she explains. "When I found the Primary Schoolhouse Flush Mount Light, it was a no brainer. It adds instant character to the space, and even if I change the look of the foyer, that light will always work." Teresa customized this American-made ceiling pendant with a small globe, and Black painted bands and fitter.
"I wanted the entry to feel relaxing and peaceful and set the tone for the rest of the house. The colors are all grey and white and that's why the black light was such a good choice," Teresa says. It goes so well and yet makes a statement on its own."
Teresa realizes that some might suggest just living with the time period and design of their home, but with inspiration and a little work (shall we say a lot of work?!), anyone can make their current home into a dream home.
"Creating a home you love is possible," she says. "For us, that means a lot of DIY and adding character anywhere I can find it. That's why I love these lights. They add character into a house that so desperately needed it."
Photos courtesy Life and Renovations