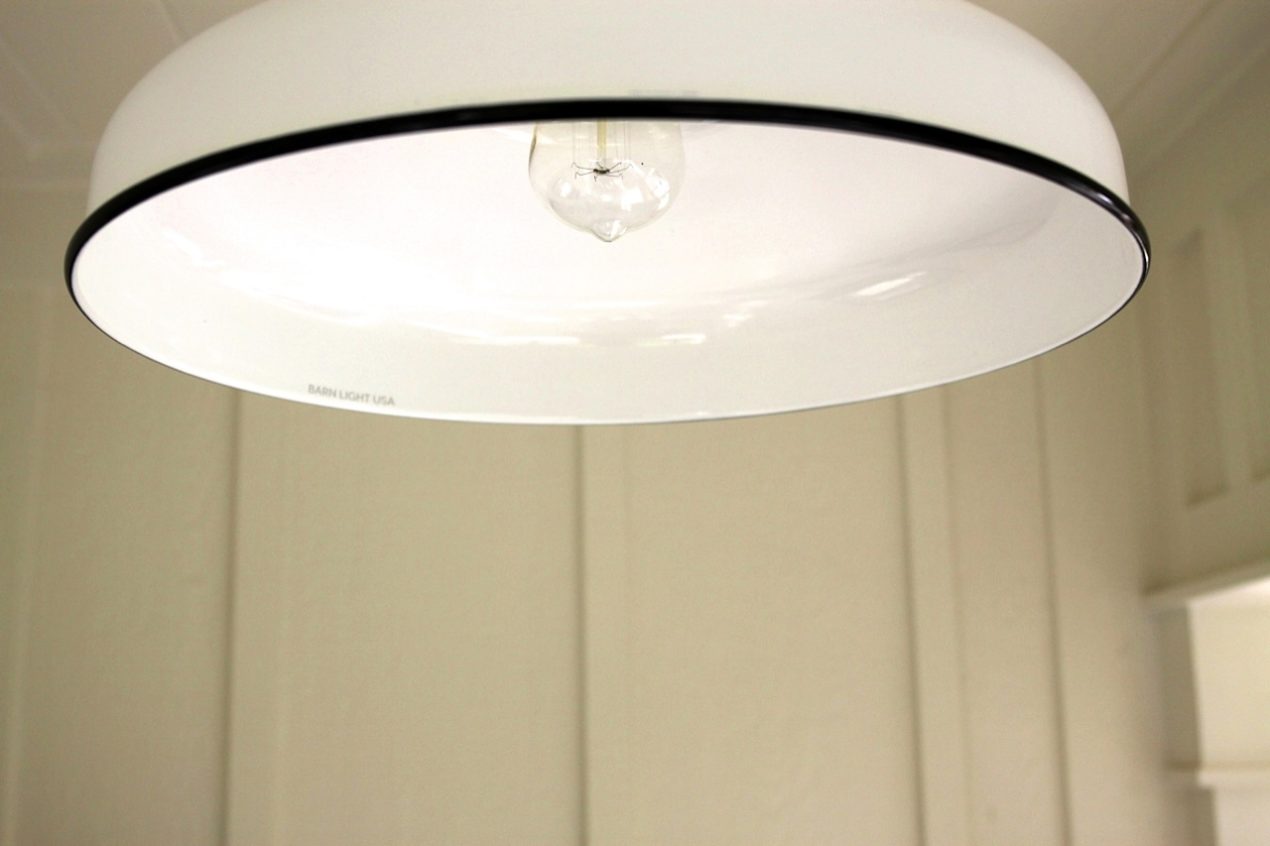 Porcelain Pendant Adds Finishing Touch to New Bathhouse
Patsy and her husband's middle Tennessee home is a popular spot in the summer. Family and friends enjoy the couple's backyard pool but, with no bathroom nearby, Patsy was facing another summer of wet traffic through her house. She began to envision a bathhouse for her yard.
"I sketched out what I wanted and my husband drew it up on a $20 computer program," Patsy says. "We did all the work ourselves using every free moment we had." Patsy desired a simple and clean design with white board-and-batten walls, galvanized metal roof, and black accents.
The new bathhouse is attached by a breezeway to the family's 100-year-old barn. Patsy zeroed in quickly on barn lighting as perfect for the new space.
"I chose the Union Pendant Light because it looks like a light that would have been around many years ago," she notes. "The white porcelain enamel finish with the black accent just makes it so perfect!" Debbie customized her new ceiling pendant with a 16″ shade and a black-and-white chevron cord.
"I didn't want it to look too small for the space but also didn't want it to be too large," she says. "I actually cut a circle out of cardboard and had my hubby hold it up to make sure the size was just right."
The American-made Union comes in four shades sizes and a variety of porcelain or powder coat finishes. Each porcelain shade is hand spun from commercial grade steel then finished with multiple layers of porcelain enamel glass. The shades are fired in our porcelain enamel oven creating a high-gloss finish that will never fade.
"I love that the lights are American made and that they replicate lights from years past," Patsy says. "I also love that you can totally customize them from the size to the finish color all the way down to the cord which is that little something that makes it even more special and beautiful."
Summer will be upon us before long and Patsy's pool will once again become a popular spot. Having the bathhouse close by makes the summer fun even easier.
"I love that the space is simple yet beautiful,"Patsy says. "I have learned that simple can give the most impact. You want to look at the entire space as gorgeous, not just one thing in the space. The barn light definitely finished off the space so perfectly!"
Photos courtesy of the homeowner