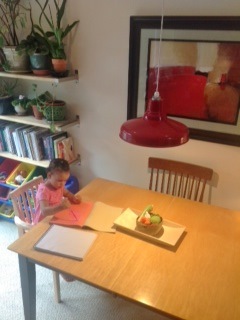 Featured Customer | Porcelain LED Pendant Becomes Focal Point in Neutral Space
It comes on suddenly. Like a light bulb turned on in a darkened room reveals what you didn't see before. One day you're munching a bagel and sipping your coffee and you realize that your dining room light has got to go. Such was the case with today's Featured Customer in southern Rhode Island.

"The chandelier was a combination of etched glass, gold leaf trim, and faux candle-shaped lights," Kendall explains. "It was fussy and not a reflection of the changing aesthetic in our space."
With a home full of simple, elegant, and clean designs, Kendall was attracted to industrial and re-purposed lighting styles that matched his Shaker and Arts & Crafts style furniture. He selected the classic but updated look of the Ivanhoe® Union Porcelain LED Pendant for his dining room. The tall neck of the Union plus it's sleek bowl shape provide just the right amount of light over the table where the family gathers for meals and more.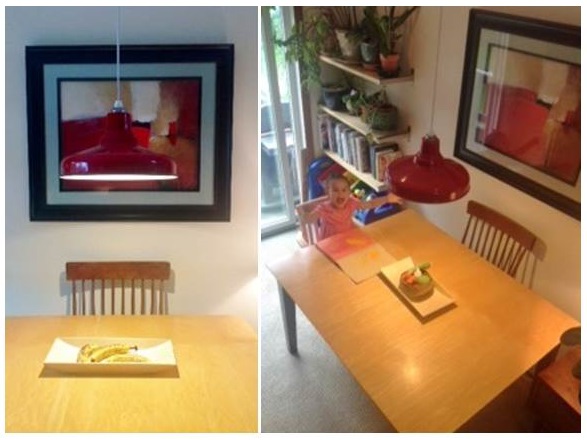 "The light is also a nod to my parents who live on a hobby farm with sheep and chickens," Kendall says. "The barn lighting reminds me of home." This American made Porcelain Pendant features an LED light which provides bright, white light similar to that of an incandescent bulb. It also lowers energy and maintenance costs while being more environmentally friendly and easier to dispose of than other bulbs. Kendall chose our 16″ shade in a Cherry Red finish.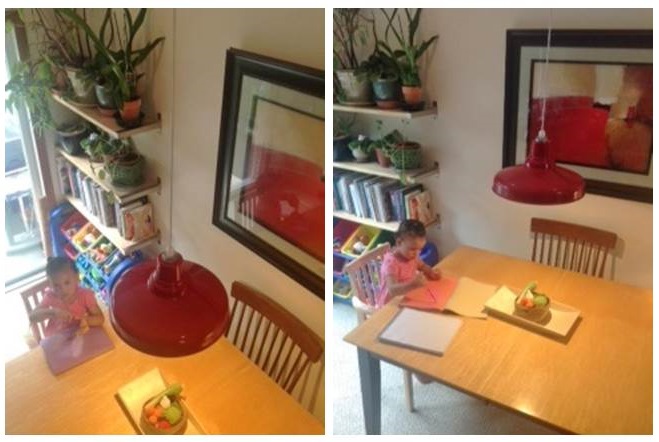 "We chose Cherry Red because the space's color scheme is on a scale from linen to beige. The area is framed by unstained natural maple cabinets and shelves so we were looking to bring a splash of color to the otherwise monochromatic space," he says. "We were also trying to make sense of an abstract painting with mostly red hues that hangs in the space. With the light there, we have even begun to like the painting!" Kendall likes the sense of intimacy the pendant brings to one of the most public areas in the house.
"Now we want to sit, do art, hang out, and spend more time at the table," he says. "That was part of the intent, so we are happy that it has actually happened."
Photos courtesy of the homeowner