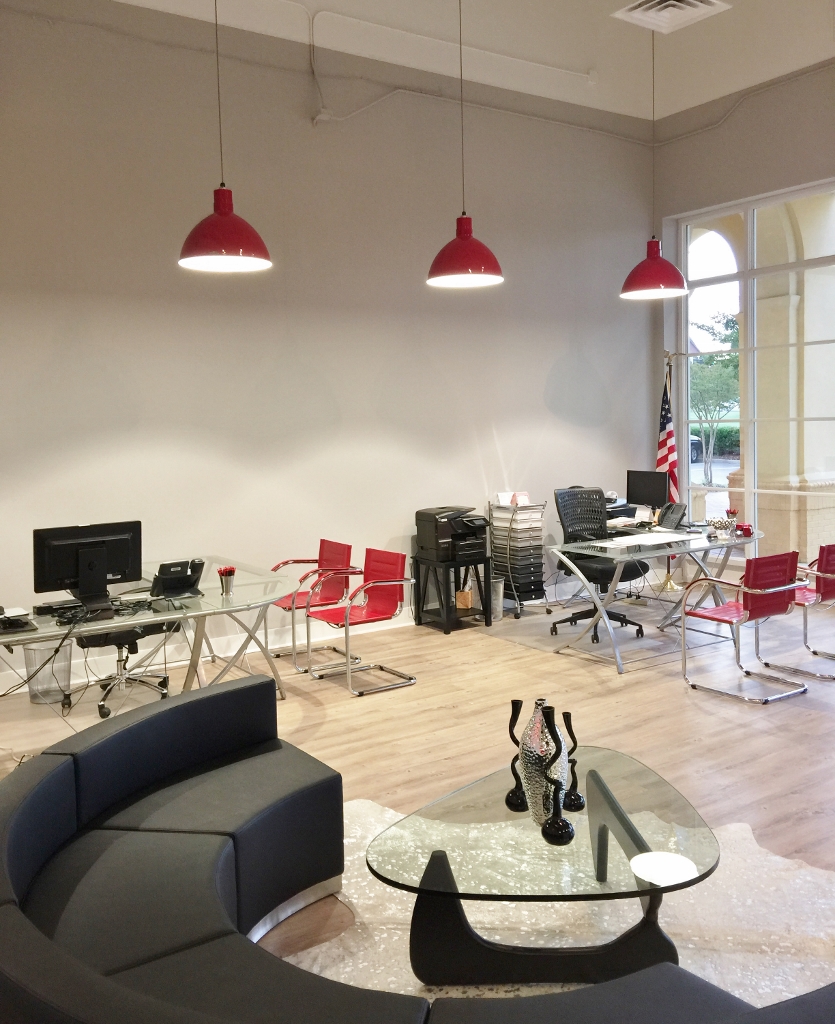 LED Pendant Lighting Adds Industrial Twist to New Office Space
Studies have shown that color plays a substantial role in corporate branding. When you think about a famous brand, the color of the logo is often the first thing that pops into your mind. 
Nobody knows this better than State Farm agent Steve Weeks and his wife Beverly who recently took on a gut remodel of their office in Ridgeland, Mississippi. The couple knew the company colors would play a prominent role in the design of the space.
"State Farm colors are red and white, and we wanted to use these colors to make a statement with the design," Beverly says. Making all of the design and décor decisions themselves, the couple aimed for an upscale mix of mid-century modern with an industrial twist. For the lighting, Beverly did a lot of research online and after finding Barn Light Electric during a Google search, landed on the Wilcox LED Deep Bowl Pendant Light.
"We studied many of the beautiful shapes and designs but the deep bowl shade of the Wilcox was the perfect one!" she says. The couple ordered eight of the 20″ ceiling lights and chose the Cherry Red finish complemented by black-and-white cloth cords.
"Our warehouse ceiling is white," Beverly explains, "so the red pendants and colorful cords pop from the ceiling looking more like art than a utilitarian fixture." Steve and Beverly chose porcelain enamel LED fixtures because they wanted to be environmentally friendly and enjoy the monetary savings LED lighting offers. These industrial ceiling pendants, customized with a 3500 neutral LED color temperature and domed lens, feature a durable porcelain enamel finish that requires minimal maintenance.
Beverly was assisted by Paige in our sales department who explained the nuances of LED lighting and how our American-made lighting is hand crafted and custom made to each customer's specifications.
"Paige was wonderful. She actually listened to my needs and made extremely helpful suggestions," Beverly says. "She was patient and as excited as we were about the lights. It was fun to work with her." Beverly also loved seeing how our lights are made in this video…
"This video confirmed that these were the lights for us," Beverly says. "They are beautiful, serviceable, decorative, and very well made. Everyone who comes in inquires about our lights, and, at night, the red color looks beautiful with the LED shining perfectly from the fixture. The lights are the total package I expected, and I would not trade them for any other light fixture!"
Photos courtesy of Steve Weeks State Farm