Jadite Porcelain Pendant Embraces '50s Ranch House Charm
Do you know the feeling when you stumble upon a photo on Instagram that instantly freezes your fingers to the keyboard? Happened to me recently when I spotted this gem…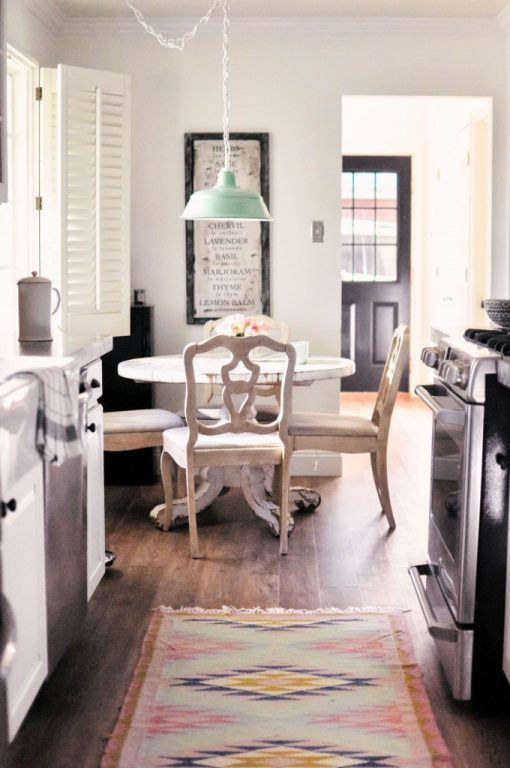 Wow. Just wow. There's so much to love in this pic! Those gorgeous wood floors, plenty of sunshine streaming in, and that pendant! None other than our Bomber Chain Hung Pendant in creamy Jadite. I couldn't wait to talk with Maryal of Love + Specs to hear more about this kitchen. She and husband Chris have been renovating their 1950s-era ranch home, located in the Arcadia neighborhood in Phoenix, for more than three years now.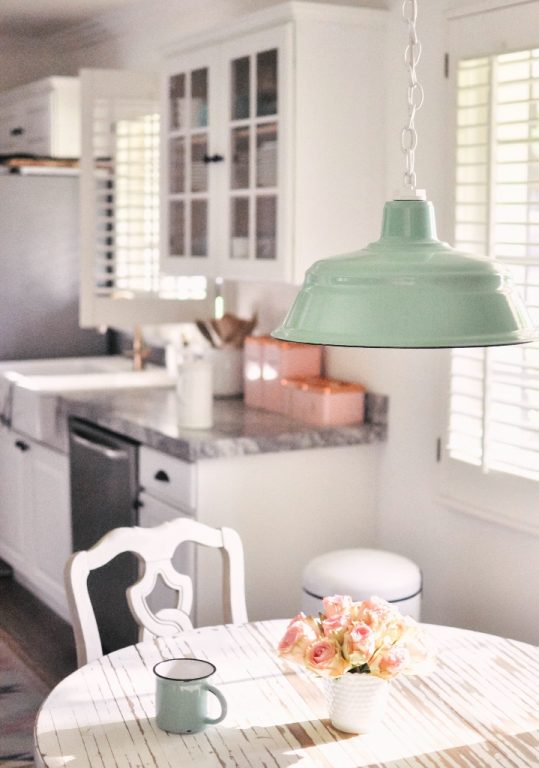 Q: What was your design direction as you worked in this space? What feel were you going for as you chose colors, materials, and fixtures?
A: Luckily and amazingly, the home retained much of its original integrity as the years went by. By some miracle, everyone that has owned this home seemed to have the same idea – preserve, update, and keep the original charm. So I really wanted to make sure each room's updated design included nods to the era, but also felt true to our iconic neighborhood which has a very quaint, farmhouse-y, cozy vibe as a whole. Our neighborhood used to be a citrus grove and has always been a beautiful, orchard-like oasis in the middle of the city.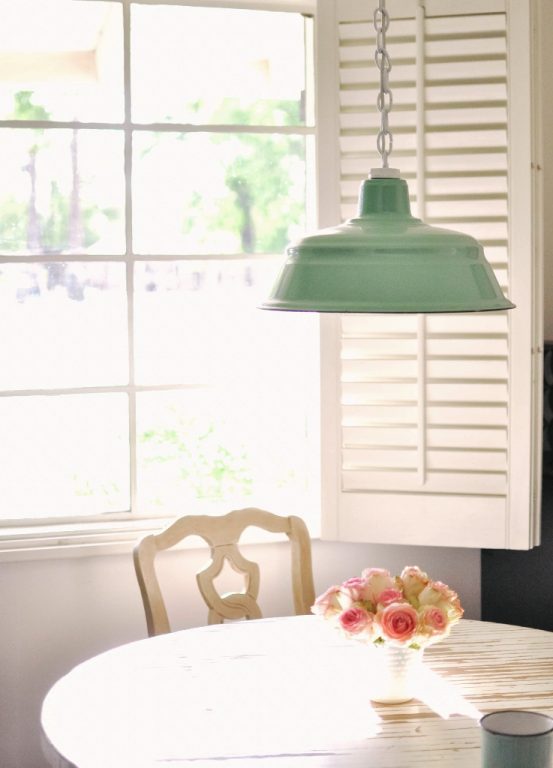 Q: What was important as you looked for lighting for your kitchen?
A: Since this light can be seen from all entries into our home, as well as the kitchen and the living room, I wanted it to be really special. I had a vision in my mind of what this light would look like. When I found Barn Light Electric on Pinterest and realized I could customize the light to manifest my vision, I was a total goner! It was like all of my design dreams came true! The fact that I had to wait for it to be made because BLE puts so much time and care into crafting and customizing each customer's light was just the icing on the cake. Never have I been more excited to receive a package at my doorstep! Shockingly, the waiting was one of my favorite parts of the process because I knew that a work of art would arrive at the end!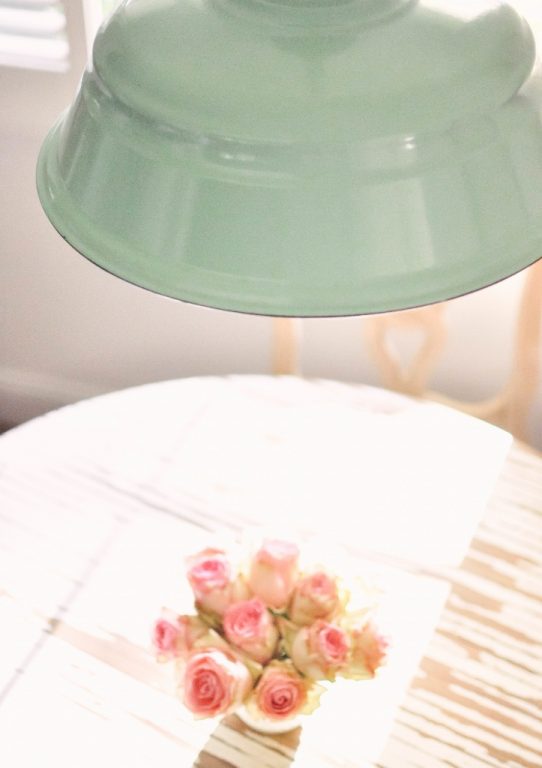 Q: Why did you choose porcelain enamel barn lighting?
A: Farmhouse style is really popular in our neighborhood. Including that style allowed us to keep design elements from the '50s and perfectly marry those with the farmhouse style that became popular in the neighborhood's citrus grove days. It just felt  right.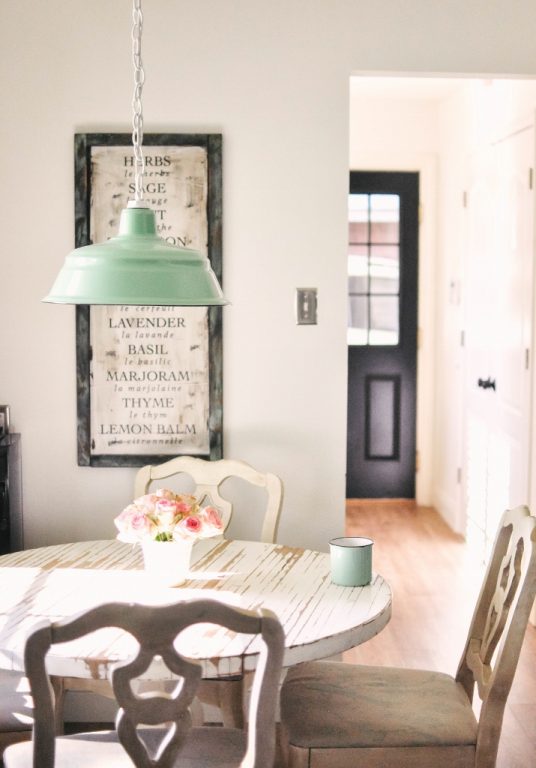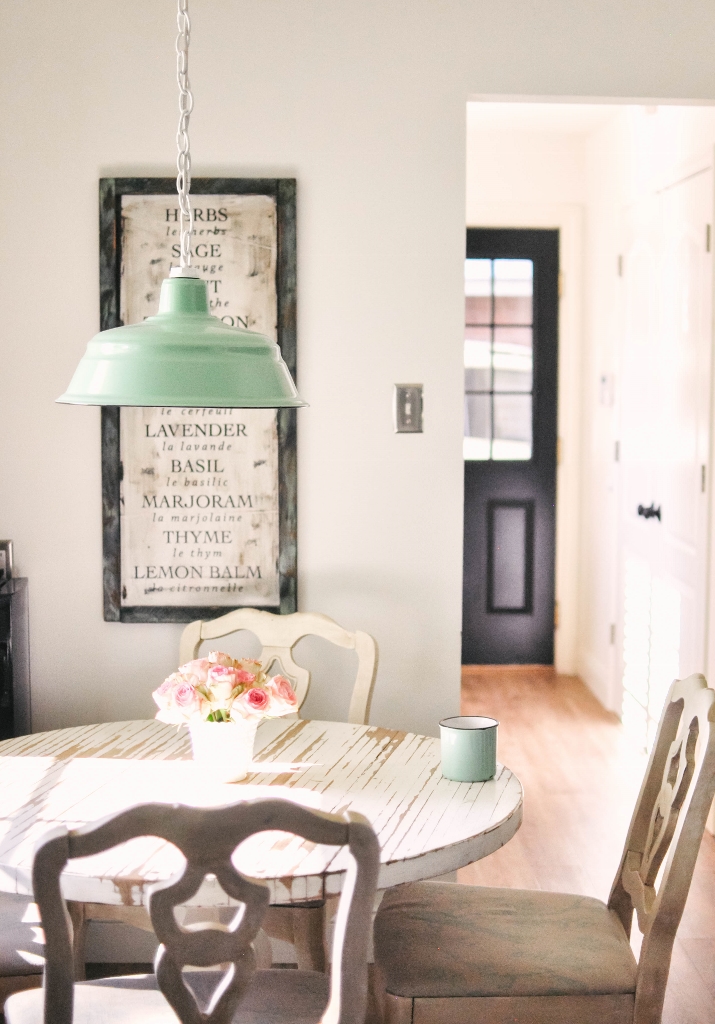 Q: And why the 17″ Bomber Pendant in particular?
A: I wanted a light that was substantial and would be the centerpiece of not only the kitchen, but the entire living space. The kitchen is open to the front door, the side door, the back door,  and  the living room. It was a two-second decision, and I was off to the races customizing my order. To me, it was so much like the process of picking out a piece of art to go inside your home. If I were any decor item in the world, I would be that light — it just felt like me.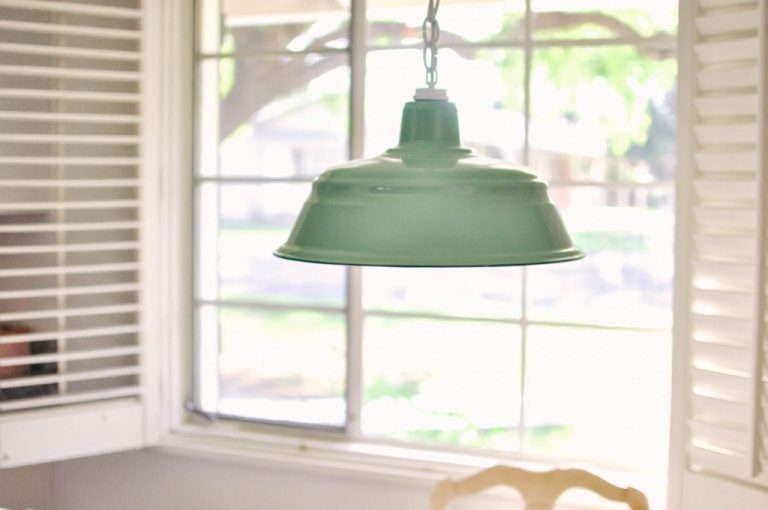 Q: Why did you go with a chain hung light over a stem mounted or a cord?
A: This old house has some funky wiring and placement. In that particular spot, the previous owner had a rectangular table that sat flush against the window, so he hung a light coming straight down from the junction box. I felt it made more sense to have a round table centered in the breakfast nook, but the junction box wasn't centered on the ceiling. So a chain it was… and I couldn't be happier! It adds a little bit of character that I really enjoy.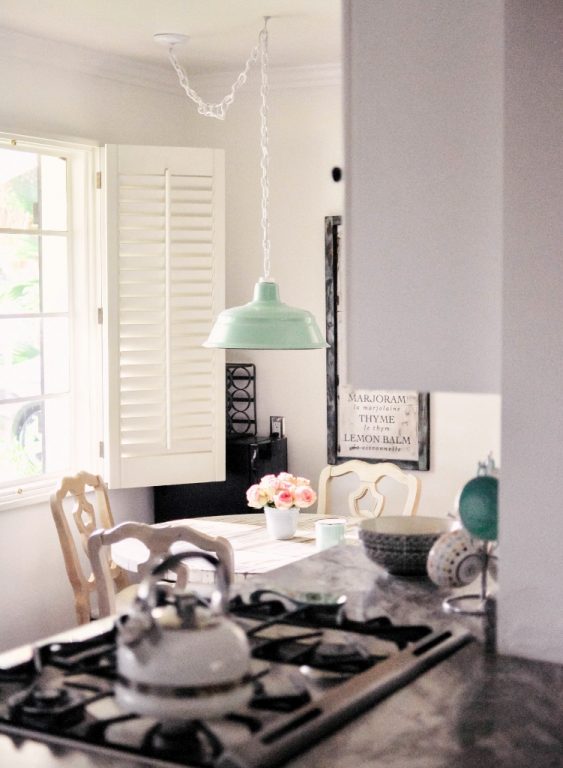 Q: Why the Jadite finish on the shade? And why the white chain?
A: I'm not sure if I can articulate why I'm so in love with this color, but Jadite is my very favorite color. It is carefully woven as an accent color throughout our house. My friends actually make fun of me because, in whatever we do, whatever I wear, and whatever I design, that Jadite color has to be included somehow. It's such a relaxing, pleasing, and welcoming color to me. And the white chain allowed the light to be swagged over the kitchen table and be visible without distracting from the beauty of light itself. It blends into the white of the ceiling and walls, so it's noticeable without being overbearing. I'm so glad I chose that color for the chain.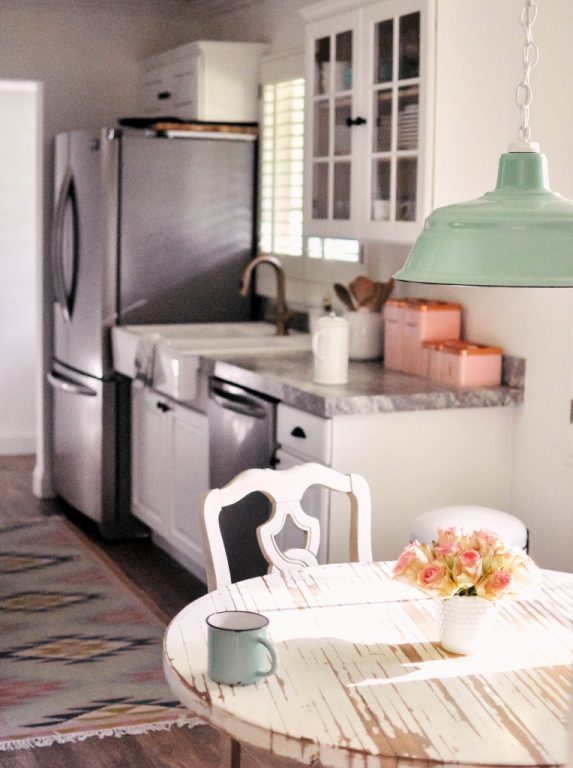 Q: What do you like best about your new pendant?
A: I feel like my pendant is the most true representation of me and this home of any decor item I have in the house. I love everything about it. I love waking up and sipping my coffee at the table under it. Weirdly, it almost makes me emotional thinking about it. Maybe it's because I consider it a piece of precious art that I know will always be in any home I live in. Or maybe because it represents me moving into my first home and playing by my own design rules for the first time. I made my own decisions about what I thought was beautiful, how I wanted my home to look, and how I wanted it to feel. The light was my first purchase after landing the house, and I can, without hesitation, say that it has been my very best purchase.
Photos courtesy of Love + Specs