Featured Customer | Galvanized Barn Lighting Adds Industrial Vibe to Office Space
Working inside an office each day is a fact of life for millions of people. While some professions allow you to be outside all day long — you lucky landscapers — others must earn their living inside. This doesn't mean you can't have a taste of the natural environment in your space as evidenced by the newly designed office spaces for LogicMonitor in downtown Santa Barbara, California. This SaaS company (Software-as-a-Service) provides hosted monitoring of IT infrastructure and recently moved into a former data center. Their designer, Celeste Trudeau, used a soothing palette to create a modern yet industrial space.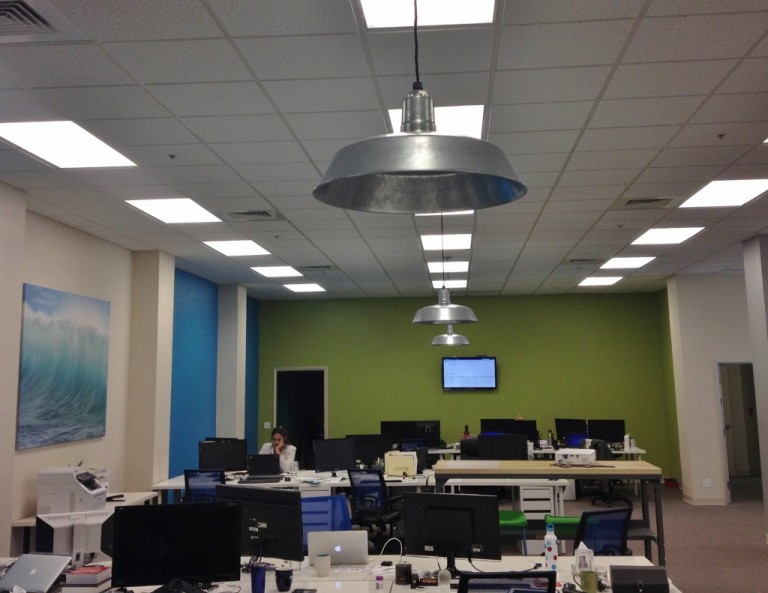 "With the colors we chose, we were attempting to bring the outside in," says Elisha Saini, team operations coordinator for LogicMonitor. "By using blue, green, and Santa Barbara Sand as our paint colors, we wanted to reflect the ocean, the nature around us, and the sand of our beaches." To complement these natural colors, the designer chose galvanized goosenecks and pendants to add an industrial touch.
Three Original™ Warehouse Gooseneck Lights were installed on center columns. The designer chose 14″ shades with a Galvanized finish and a G11 gooseneck arm to provide the appropriate projection from the column. The Original Gooseneck is one of Barn Light Electric's most popular fixtures thanks to the dozens of ways it can be customized to fit almost any residential or commercial dècor.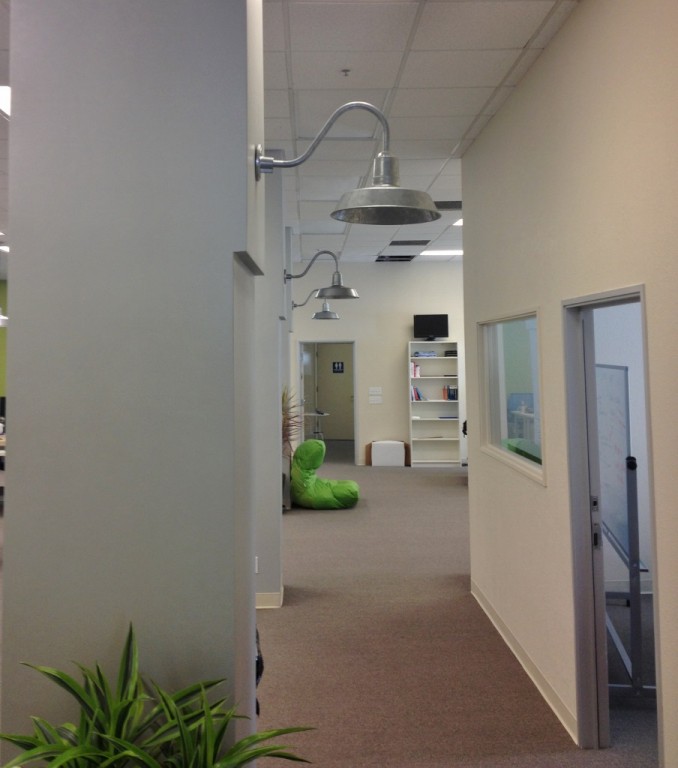 Five Original™ Warehouse Pendants were also suspended from the ceiling to add additional down lighting to the desks. Celeste chose the generous 20″ shade again with a Galvanized finish. These American made, cord hung pendants can be installed with a standard black or white cord or a colored cotton twist cord adds a hint of vintage flavor. The remodeling project included new carpeting, refinished flooring in the lobby, new paint, and loads of new furniture for the growing company.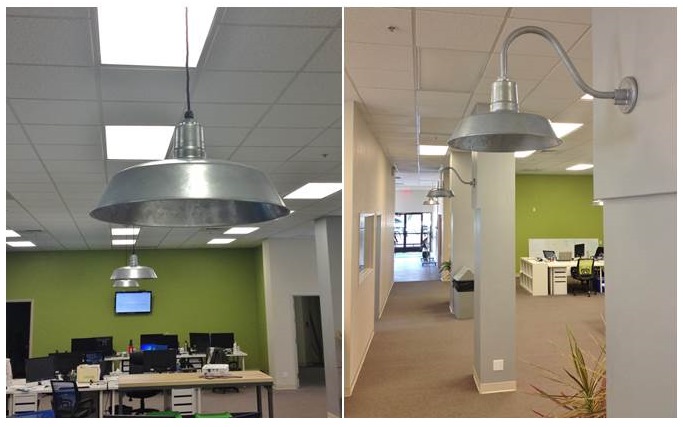 "The galvanized metal finish was right in line with our industrial vibe and provided something out of the ordinary from the typical fluorescent lighting that is so common in many corporate offices," Elisha says. "The lighting was a finishing touch to complete our new home."
Photos courtesy of LogicMonitor