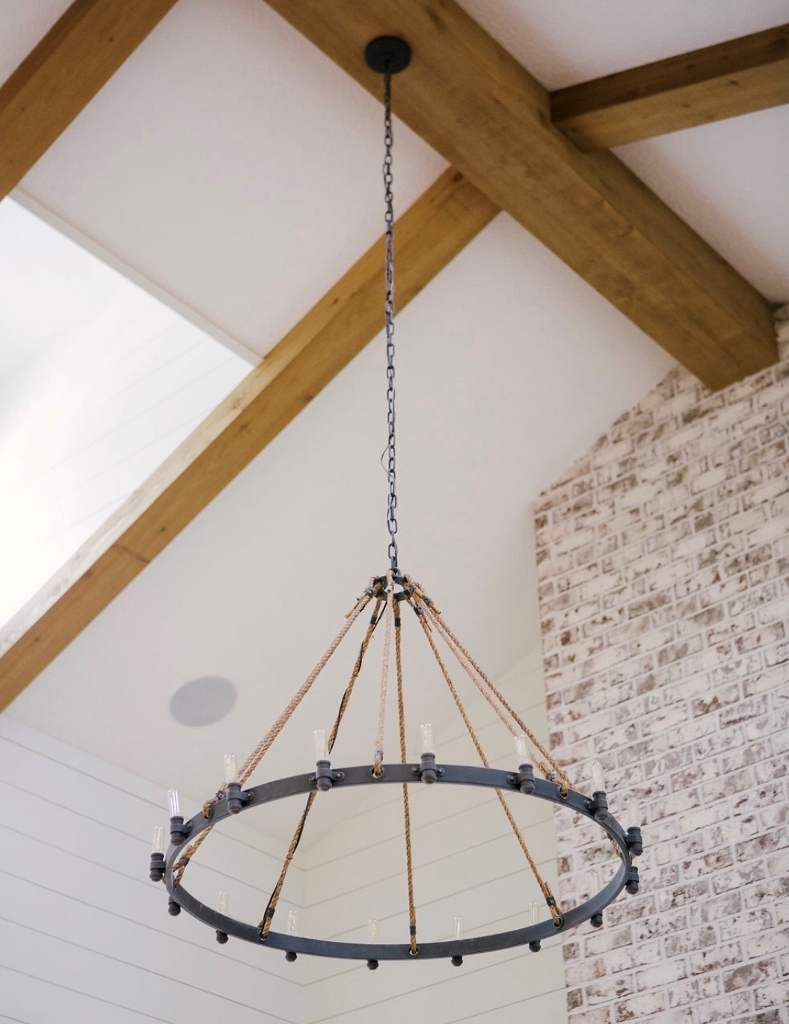 Farmhouse Chandelier Fills Expansive Living Room with Rustic Style
Florida may be world-renowned for its beautiful beaches, but we have some pretty special farm land too. The Century Pioneer Family Farm Program honors Florida families who have maintained at least 100 years of continuous family farm ownership. The program recognizes 250 of these owners for their role in preserving environmental resources and for helping foster the state's agricultural industry.
When Meghan and her husband had the chance to build on her family's Century Pioneer Farm in northern Florida, she jumped at the chance to continue the family legacy and build the farmhouse home of their dreams.
"I love how old farmhouses exude feelings of warmth, simpler times, and, for me, familiarity," Meghan says. Although her home is brand new, Meghan wanted the space to feel homey and comfortable especially in the living room.
"By including shiplap, whitewash brick, and cedar beams, we were able to make our living room more family friendly and warm," she notes. "Our vaulted ceilings give the 'wow' factor, but I also wanted to make sure the finishing touches contributed to the homey feel." When it came to lighting the 24-foot ceilings in the living room, Meghan searched for a chandelier that was large enough to accommodate the space but still contributed to the farmhouse aesthetic.
"It was a huge struggle! I searched A LOT! Most of the large chandeliers we found were far too ornate for my taste," she explains. "I didn't want a formal feel and all of them boasted elegance. But the fixtures that fell under the farmhouse category were far too small for such a grand space! I was really struggling with this, but luckily, my husband stumbled upon the Barn Light Electric website and found the amazing Outer Banks Chandelier. I have to give him credit for finding the perfect fixture for us!"
Meghan chose the 42″ size chandelier to fill the soaring ceiling. The Outer Banks Chandelier features a Shipyard Bronze finish, a four-foot chain hung mounting, and 16 sockets for plenty of light. It is also available in a 32″ size or a 32″ double chandelier version. For the same look in a slightly smaller 30″ size, the Maven Chandelier features the same ring design and is easy to customize with finish color, rope, and cording options.
"I love the modern farmhouse vibe of this chandelier. The metal and natural rope appeal to the rustic feel I love so much," Meghan explains. "This one was meant for us. It's definitely large enough to fit the space and brings together all of the other elements in the room." Her favorite time to use the light is at night after the kids have gone to bed.
"We put it on a dimmer," she says. "It creates a mood that is warm and casts a soft glow throughout the heart of our home."
Photos courtesy of the homeowner and @mathersphotography