Featured Customer | Erin from Belgium, WI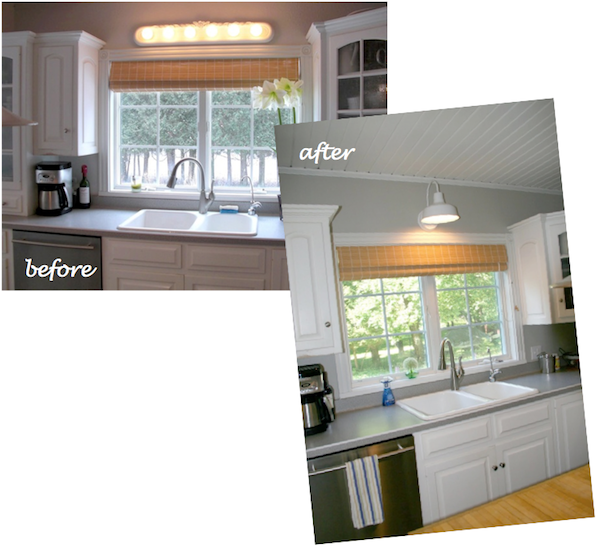 Today's featured customer is a fellow blogger herself. It's always great when customers email in photos, but it's even more exciting when we stumble across them on their personal blogs – and that was the case with Erin from the Impatient Gardner. We saw the photos of her kitchen remodel and recognized a little something above her sink. After doing some digging around on our end, we quickly discovered that Erin had indeed ordered a couple of our charming barn sconces for her home.

Erin's remodel was truly a unique one. Would you believe us if we told you they cut off the top half of their country cottage, and after making it taller, put the old one back on? It all sounds crazy, but it completely improved the curb appeal of their Wisconsin cottage. As opposed to the roof, the Barn Light Austin Sconce was a quick fix to replace the existing oversized bar light. When Erin replaced her sink light with an authentic barn lamp, it made a world of difference. The old fixture resembled something found in a bathroom, not in a cute farmhouse kitchen. If you've been looking to spruce up your own home but don't quite have the budget, think about switching out your lighting – it's quick, easy and definitely affordable. The same style shown today can also be found within our Discount Barn Lighting too for around $80.00.
Her photo gallery wall is probably one of our favorite parts of the home. Who would have thought that a small vignette could capture so many memories? Filled with pictures of memories between Erin, her husband Rich, and their pets, you instantly get a feel for what this family is all about. Here, another one of our Austin Sconces is used to spotlight their precious memories made and captured on film.
Don't keep us in the dark! You too should send in your project photos here; we would love to have you as our next featured customer!