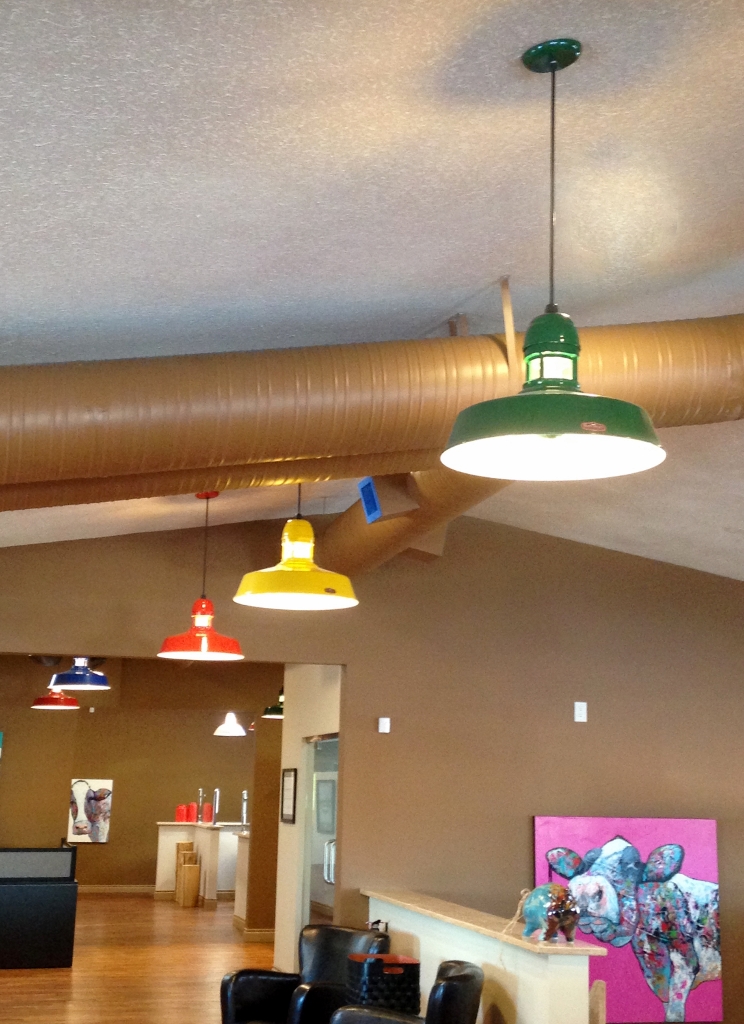 Colorful LED Pendant Lights Create Fun Office Vibe
Office design and décor can speak volumes about the people who work there. And let me tell you, the folks who work at Right Choice Camps & Catering in Edmonton, Alberta, Canada, are one festive bunch!
This lucky group of employees had a major hand in the complete remodel of their office which began in 2013 and was completed last summer with the purchase of an adjacent building. The staff not only went green with LED lighting, but they threw in Royal Blue, Buttery Yellow, Barn Red, Blush Pink, and Magenta for good measure!
"We wanted our office to be a fun, welcoming atmosphere that we are proud to work in," says Adele Fraser, hospitality coordinator for the company that has remote camp facilities located throughout Alberta.
In phase one of the remodel which took place in 2013, the group chose 22 Sydney Cord Hung Pendants in five different finish colors. When the company purchased the building next door in 2015, they decided to go green, environmentally speaking, with the complementary look of the Outback LED Cord Hung Pendant.
"We were looking for a barn-style light," Adele says. "We are really fond of the unique but modern style of these fixtures, but we absolutely love all of the bright, beautiful colours!"
Seven Outback LED pendants now bring color and highly efficient LED lighting to the newest space. These rugged guard-and-glass ceiling lights are customized with 18″ shades, standard black cords, ribbed glass, and a cool white color temperature of 4000K.
"The LED is eco-friendly and energy efficient and we will not have to replace the bulbs as often," Adele notes. "The multicolored fixtures really let us express our personality and individuality."
Like all of our LED lighting, these Outback pendants feature Cree's 2-Step Easy White® technology which ensures excellent color consistency. The integrated LED components provide an average of 50,000 hours of service.
"We really like the way it looks," Adele says. "We love the colour patterns and the way it brings the whole space together."
Photos courtesy of Right Choice Camps & Catering