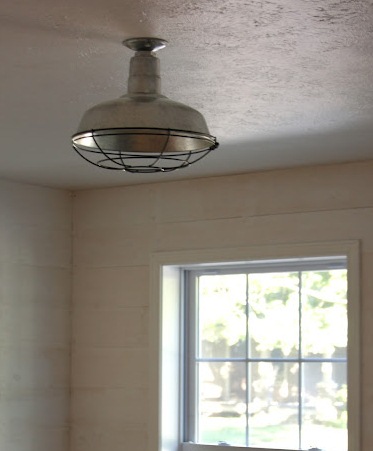 Featured Customer | Bronze BLOG Winner Shows Off New Lights
When we kicked off the summer with our annual B.L.O.G. contest — that's Barn Light Online Giveaway — many of you bloggers dove right into our website to pick out your favorite lights then blogged about it online. When the dust settled, our third place prize went to Shannan in Goshen, Indiana. Shannan muses about house and home on her Flower Patch Farmgirl blog. Shannan and her husband Cory, along with kids Calvin, Ruby and Silas, are anxiously awaiting the completion of their new home. The B.L.O.G. contest came at an opportune time for them.

"The timing was perfect," Shannan says. "We were making our lighting selections and I have drooled over Barn Light Electric's fixtures for so long, I knew I had to enter. Substantial and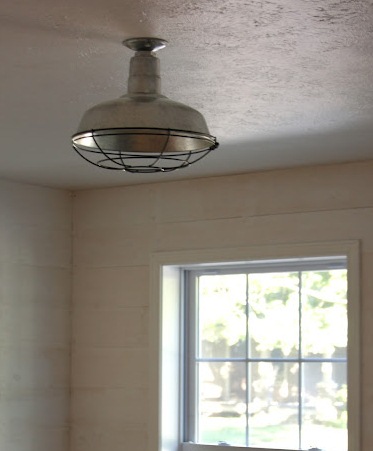 unique lighting has always been my favorite way to add character and drama to a space." Shannan's new home is very clean with a mostly white interior. She favors vintage and industrial finds and plans to use liberal pops of color throughout. Avid DIYers, Shannan and her husband have tackled several projects themselves.
"My husband installed horizontal planking to the living room and is installing a subway tile backsplash," she explains. "We also have plans to track hang a vintage door we bought at auction at my old elementary school." For her winnings, Shannan chose our Flush Mount Warehouse Shade in a Galvanized finish and a Wire Cage Pendant in Satin Nickel.
"We spent hours looking at the BLE website trying to maximize our winnings," Shannan says. "It was difficult because there was so much we loved!" They hung the Flush Mount Warehouse Shade in the living room where Shannan says it fits the space very well.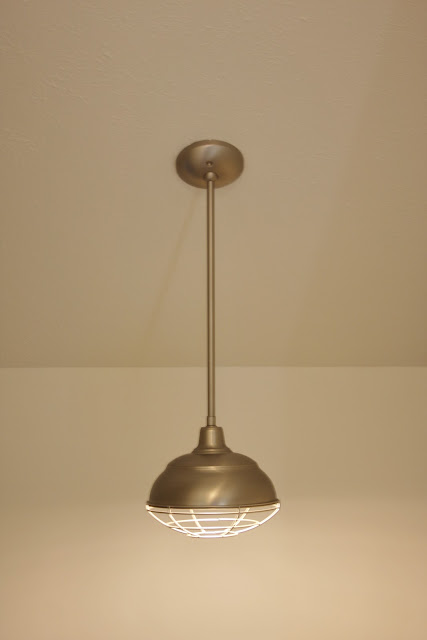 "It's substantial and I love the industrial edge to it. We decided to order the cage in black for some added contrast and I'm so happy with our decision," she says. The Wire Cage Pendant hangs in the landing on the stairs and is one of the first spaces you see when you enter the home.
"I took advantage of the ceiling height and went with a pendant," Shannan explains. "Another selling point to this fixture is that the mounting hardware allows for some flexibility in hanging. We were able to hang it in the landing even though the ceiling there is slanted." Now that her lights are installed, what does she like best about them?
"I'm particularly smitten with the galvanized Warehouse Shade paired with the black cage," she says. "But I love the industrial vibe of both lights!"
Photos courtesy of the homeowner