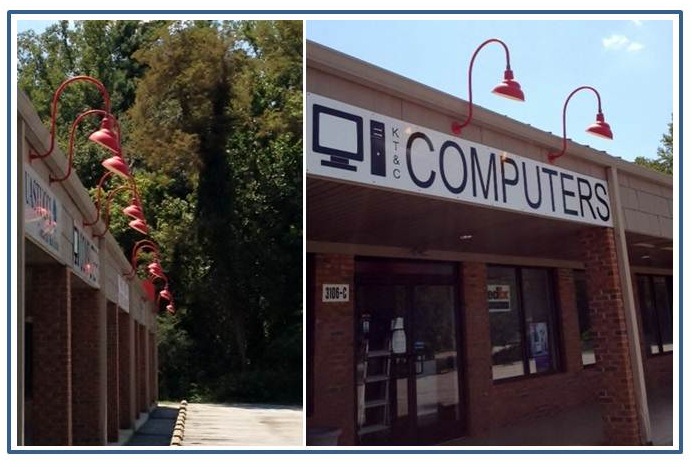 Commercial Lighting That Can Perform with Pizazz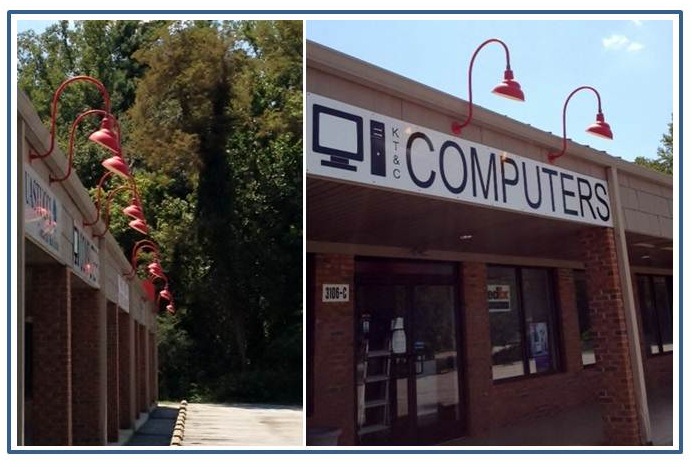 You're driving down the road and something red catches your eye. That pesky red hue that Sir Isaac Newton placed at the very beginning of the color spectrum when he first described it back in the 17th century grabs your attention every time. That's why fire engines, stop signs, and certain poisonous critters bear the color red. It screams, "Look at me and pay attention!" It's no wonder so many business use red in their exterior color schemes.

Adjacent to a bustling roadway, this modest strip mall needed a way to make people slow down and take a look. The developer chose bright red sign lighting with arching gooseneck arms that adds a festive touch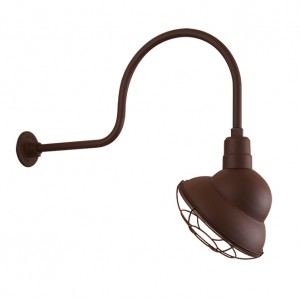 without feeling garish. These lights are very similar to our Emblem Shades, part of our collection of Gooseneck Sign Lighting. The Emblem Shade has the classic look of a larger warehouse shade but with a more rounded, stacked profile. This shade comes in four sizes from a small 8″ shade that is perfect for hostess stands or highlighting a menu outside to a very wide 16″ size that will brighten up the company logo, signage, or landscaping for all to see.
More than 40 finish colors are available for the American made Emblem Shade and Red is certainly one of the more eye-catching choices. There's also a bright Blue or Yellow if that fits your business style or perhaps something more classic like Galvanized, Dark Green, or Powder Coat Rust. If your business venue has a vintage angle, consider adding a wire cage or cast guard and glass to your Emblem Shade. It not only provides protection to the bulb, but adds a punch of personality not found on big-box store fixtures!
Need something a big smaller perhaps for individual dining nooks, casual seating areas, or to highlight products and small displays? Check out the Mini Emblem Shade which measures a petite 6″ across but has the same stacked shade design as our larger version!