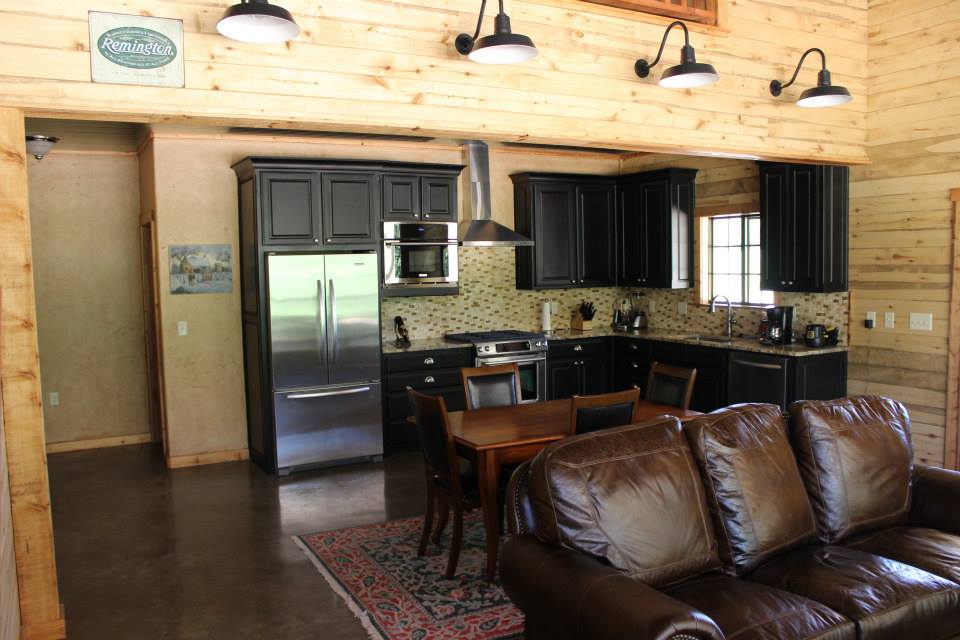 Barn Pendants, Goosenecks, & Sconces for Texas Barndominium
If you're a wordsmith like me, combination words provide ways to describe something in an interesting, and often entertaining, manner. Spork, for example, aptly describes a combination fork and spoon plus it's just fun to say. And who didn't laugh out loud the first time you heard Brangelina or Bennifer?
But one of my favs right now is barndominium. This word describes a wonderful combination of a barn and condominium — think of a large, open space with living areas added on. From the outside, the building often resembles your typical barn, but the inside can be designed and decorated with plenty of up-town style!

Today's Featured Customer lives in East Texas where the barndominium craze is booming. Barns are big in Texas anyway, and folks looking for a wide open floor plan for their home or vacation place are turning more to this style of building. John built a weekend home and outfitted the new building with plenty of barn style lighting.
"The barn lights were consistent with the barndominium cabin style I was aiming for," John says. "They each fit my vision and were consistent with the ceiling heights and architectural detailing." In the main living area which includes the kitchen, living room and loft, John selected the 14″ Original™ Warehouse Gooseneck Light in a Textured Black finish. These fixtures feature the G11 gooseneck arm.
He also installed matching Original™ Stem Mount Pendant Lights in a 16″ shade size with a 24″ stem from the vaulted ceilings. These pendants, also finished in Textured Black, provide plenty of down light towards the living space and provide a sleek contrast against the shiny metal ceiling and light wood.
In a nearby bath, John stayed within the barn family and chose the compact Austin Wall Sconce in an 8″ shade size. Perfect for over the vanity, the Austin is a popular choice for tight spots like half baths, hallways, and entry spaces.
On the porches outside, John used the Original™ Warehouse Flush Mount Pendant Light but, in this space, chose a Galvanized finish to complement the metal ceiling. He also chose the wire guard option to provide protection to the bulb and add a rugged look.
"I chose these fixtures because they were consistent with the look and feel I was trying to achieve," John says. "I think they look classic and give the cabin a timeless appearance."
Photos courtesy of the homeowner