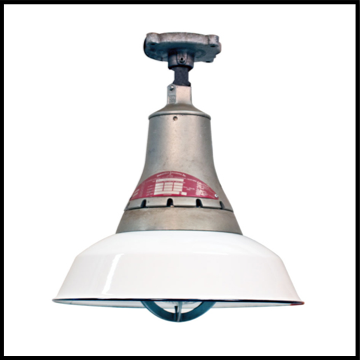 Explosion Proof Lighting Found in Kate Spade's Kitchen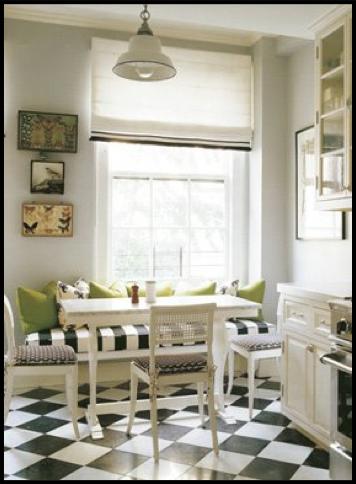 Everything about this kitchen shouts vintage to us. From the traditional white furniture, walls, and cabinetry along with the retro diner style floor, this kitchen and breakfast nook is perfect for someone inspired by antique, and classic 1950's décor. You would never guess who lives in the space either. It's fashion mogul Kate Spade! She's known for her revolution on classic handbags with fun and vibrant colors. With the use of her jewel tones throughout her work, most would expect her home to reflect the same style, but not quite.
The room does, however, reflect something that is typical in Kate's designs. Overall, this trendy vintage style is normal for her work, as are the stripes and lime greens found on the banquette. A classic vintage piece (and undoubtedly our favorite part of the kitchen) is her chosen industrial pendant light. Because the ceilings are so high, an industrial grade light fixture was incorporated to provide more than enough illumination for the room.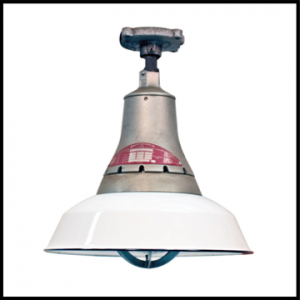 Vintage Barn Lighting has quite the selection of authentic Crouse-Hinds™ lights, similar to the lamp in the designer's kitchen featured today. The 14" Vintage Crouse-Hinds™ Galvanized and White Porcelain Shade shown on the right is an example of the explosion proof lighting that is ready for you to utilize in your own home. Because of the mounting style, this particular factory light fits snugly to the ceiling, just in case your ceilings aren't sky high like Kate's. However, if you do have an open and airy room, various stem mount pendants in the same style may just be what you've been searching for. All you have to do is choose your favorite lighting options from vintagebarnlighting.com, and instantly hang them in your home. We've done all of the hard work and rewiring for you!
Top Photo Courtesy of Décor Pad