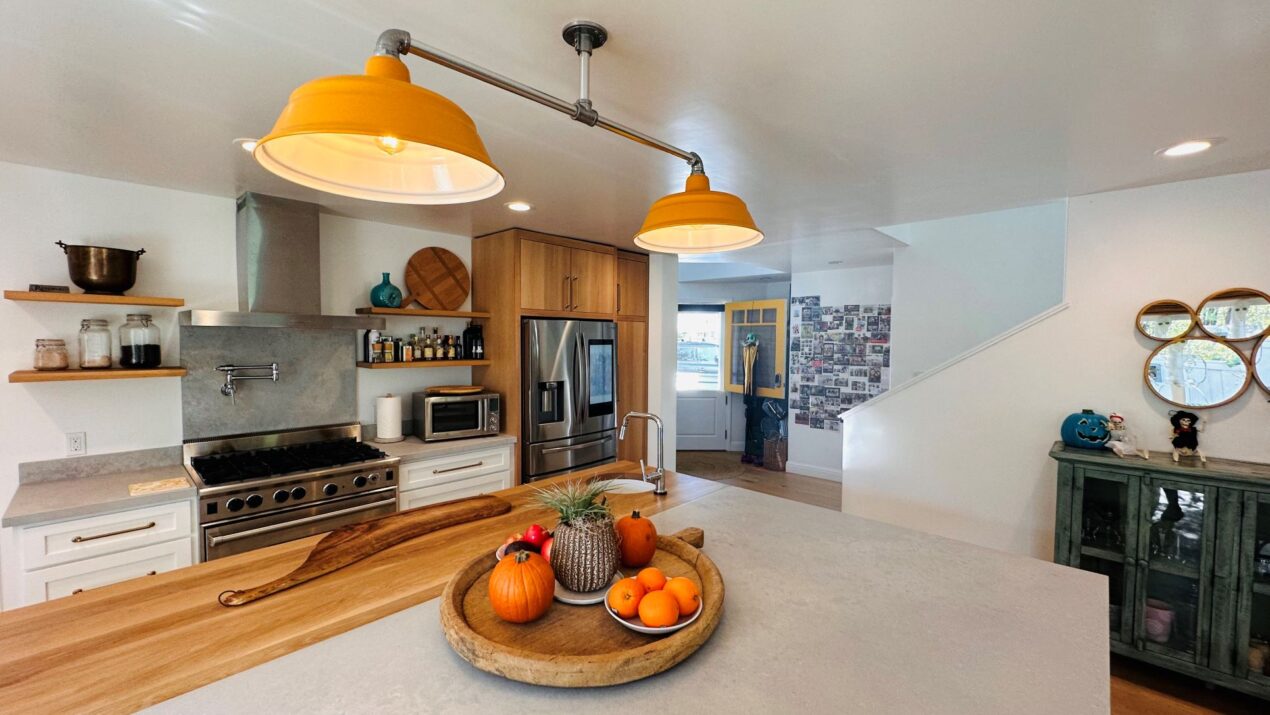 Customizable Lighting Sets Playful Tone in New Kitchen
As Toni contemplated the design and layout of her new kitchen, she opted for an oversized island to anchor the space which is open to the living area. Located in Santa Barbara, California, Toni's home exudes a casual, beachy style.
As she began her search for kitchen lighting, Toni wanted plenty of customizing options for size and color. Barn Light Electric checked those boxes with ease!
"I wanted a fun, unique, and functional centerpiece to the space," Toni says. Browsing the Barn Light website, she landed on the Bomber 2-Light Stem Mount Pendant which boasts eye-catching curves with its two traditional, RLM-style shades. Toni customized this handcrafted pendant with a happy Sunflower finish and contrasting Brushed Aluminum mounting. She also chose a 6″ stem from six size options and 18″ arms which affix the shades to the stem.
"The custom size fit the oversized island perfectly," she explains. "It's mounted high enough to not interfere with the line of site to the living room given the eight-foot ceiling in the kitchen."
Over the nearby sink, Toni chose the Kao Flush Mount Light customized in the same Sunflower finish as the island pendant. Made from molded porcelain ceramic, the Kao Flush Mount has vintage design roots but its creative lines complement more contemporary décors. Toni also added an Elva LED Tala bulb to the fixture for another eye-catching and energy-saving feature.
"This fixture was small enough to center over the sink and be flush to the ceiling. It plays into the Bomber without distracting from it," Toni notes. "The Tala bulb adds to the fun!" Toni loves how the kitchen turned out and credits Sarah Jones McFadden, principal designer at the McFadden Design Group for valuable help with the design and many choices to be made during the process.
"The lights are the jewels in the design," Toni says. "The are wonderful as warm mood lighting during the evening hours."
Photos courtesy of the homeowner