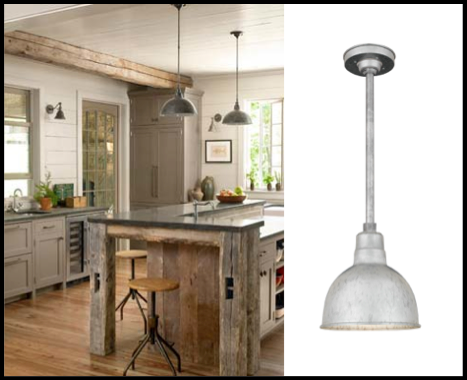 Discount Factory Pendant Lights That Highlight Quality Living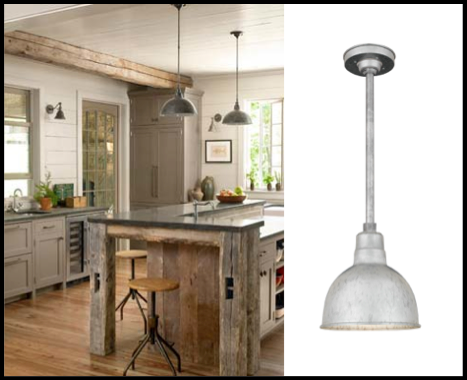 Have you ever noticed that the quality has diminished in some of the products in your home? Did you ever check to see if the item was imported – brought in from some overseas land? Chances are they were, and that's the case for many of the items in our homes today, including lighting – value and durability were sacrificed for a low price. We'd like to introduce you to the All Weather Stem Mount Deep Bowl; it's a Discount Barn Light and starts at only $103. The best part of all? It's still made right here in the US!
This discounted light, along with many other styles, is all made here in America. Popular RLM lights are now available at a price that is plausible for the everyday homeowner, making it easier to unify the lighting on the inside and outside of your home. Many of these lights are available as stem mount and cord hung pendants, as well as gooseneck light fixtures.
Industrial modern pendants, such as the one featured today, can be used to complement a country-inspired kitchen, or any kitchen for that matter. This one in particular, found in Country Living Magazine, utilizes an all around rustic scheme. Evident in the raw wood island and beams, as well as the plank wood walls, this homeowner is a huge fan of a simpler time. This was a time when quality was valued over quantity. Factory lights spotted over the island, plus their vintage wall sconces, easily emit light throughout the room when the sun goes down.
While the majority of our light fixtures are made here in the states, we do offer a selection of imported warehouse lighting too. No need to worry though, these lamps remain top quality when it comes to construction. If you ever have a question on whether a light is imported or not, feel free to contact us and any of our sales reps would be happy to assist you in your decision.