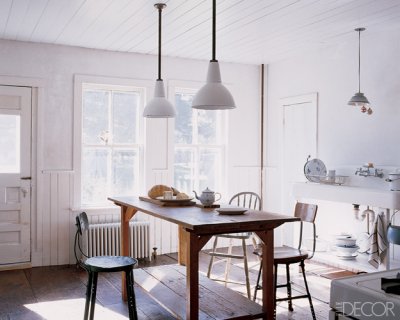 Deep Bowl Porcelain Pendants Make a Barn Light Debut
All white rustic décor is being seen around the design world right now, and rightfully so! These bleached out rooms give an ethereal, calming feeling to anybody who enters. This eat-in kitchen featured in Elle Décor is essentially the perfect example. Between the wide plank floors, whitewashed wainscoting and the mismatched chairs, this room is practically screaming industrial farmhouse at us, and we love it!You can't help to wonder what memories must have been made here, as it's plain to see that it's a well lived in kitchen! The pub-height dining table serves a dual purpose as an island and prep space, but also as an area to gather at the end of a long day and collect your thoughts. One can't help but to notice the two deep bowl pendants lighting up the room when the sun goes down.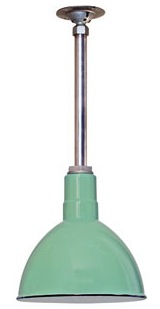 Deep bowl pendant lights are perfect for spaces where concentrated light is needed, such as a dining table or kitchen island. Similar to these barn pendants is the 10″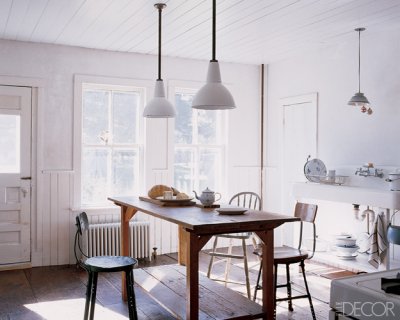 Benjamin® Wilcox Porcelain Deep Bowl Stem Mount Light. The Wilcox Stem Mount Pendant is one of the newest additions to Barn Light Electric, and why not? Deep bowl pendant lights are one of our bestsellers, so why not offer them with a vitreous porcelain enamel finish? The baked-on porcelain enamel finish is sure to stand the test of time. Don't believe us? Check out vintagebarnlighting.com, where you'll find authentic porcelain barn lights from the past, still in near perfect condition. Coming equipped with a sturdy stem and hang straight canopy, this pendant light is great for indoor and outdoor use, as the interior wiring will be well-protected against anything Mother Nature could toss your way. Not only will the wiring be safe, the shade will retain its finish, not fading a bit in the sunlight.
Top Photo Courtesy of Elle Decor