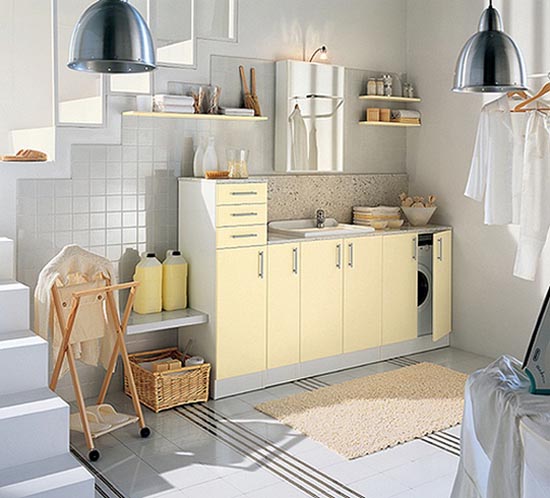 Deep Bowl Pendants Add Industrial Touch to Laundry Room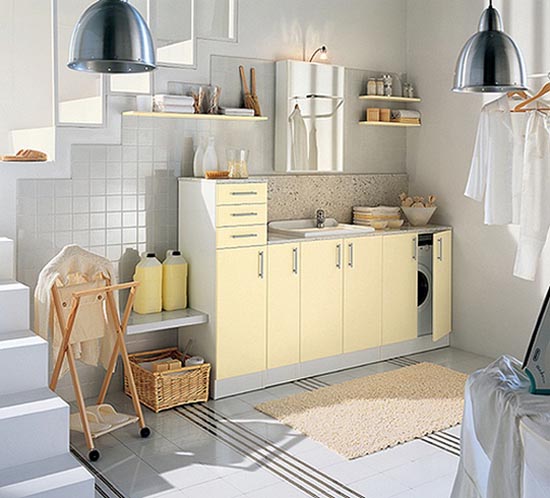 In many homes, the laundry room is often an afterthought. Where can we tuck a washer and dryer and, if we're lucky, a deep sink for hand washing and a table for folding? The basement is often the target space for the laundry room thanks to its out-of-sight location, yet many basements lack natural light or any sort of ambiance. This basement, however, is not only bright and inviting but convenient, well organized, and well illuminated.
We're loving the color palette of this space with the light background complemented by the soft yellow cabinets, and the textures of the tile wall and backsplash. Add in the hefty deep bowl pendants with their sleek industrial look and this is a laundry room you can actually look forward to spending time in!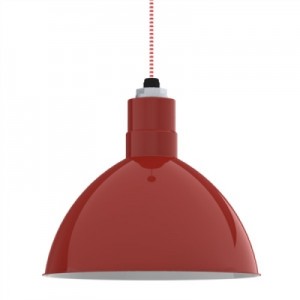 To get this look in your laundry room, consider our Wesco Cord Hung Pendant Light which comes in five shade sizes ranging from 8″ to 16″ — even if your laundry room is half this size, you can still hang a stylish industrial pendant to shed some light on stinky workout clothes. A dozen delightful powdercoat finish colors are available for the American made Wesco. Choose something traditional such as Black or Galvanized or release your inner child with something bright and cheerful like Barn Red or Buttery Yellow to perk up your laundry space. Based on original warehouse shade designs from the 1940s, this light brings modern style to any space.
A standard black or white cord comes with your pendant or choose a cotton twist cord for another hint of color. A wire cage or cast guard and glass will protect your bulb in your workspace and give a bit of retro flair to your fixture. Consider this light not only for laundry rooms, but for the dining room table or hung in pairs over the kitchen island!
Top photo courtesy of Female Ways