Porcelain Pendants Add Sassy Style to Chicago Hair Salon
When the Barbara & Barbara Salon relocated to Logan Square on the north side of Chicago, owner Sierra Berquist removed all vestiges of the former travel office to make way for her own sassy style of service. Where else in the windy city can you get a shampoo, cut, blow dry, and beer for $25? When it came to new lighting, Sierra found that our Ivanhoe® Sinclair Industrial Porcelain Pendant was the perfect complement to the retro atmosphere she wanted to create.
"We moved locations and needed to totally remodel," explains Sierra. "That meant updating the lighting from fluorescent office lighting to something that fit our style." Sierra was striving for a vintage/mid-century design which includes exposed ductwork, a vintage pink front desk, and a colorful mural in the waiting area.
The Sinclair® Porcelain Pendants, finished in our lovely Jadite, fit the décor and creamy color scheme perfectly. And with their durable glass enamel coating, these porcelain lights will never fade making them a terrific choice for commercial lighting needs. A simple soap-and-water clean up will keep these fixtures looking like new long after lobs and eyelash-length bangs go out of style.
"I really liked the color choice with the cotton cord," Sierra says. "It fit perfectly with what I was going for. And the porcelain option was functional, classic, and cute." Sierra adds that the little details in the fixtures make them unique.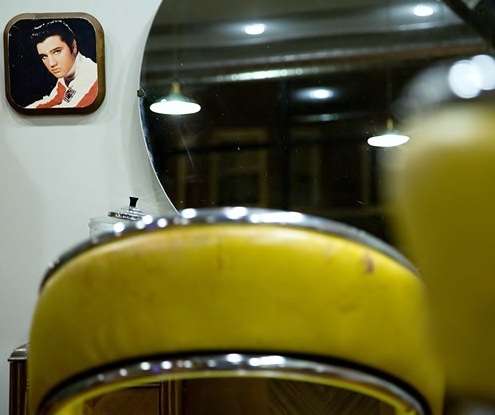 "They are so nice to look at and people comment on them all the time," she says. The Sinclair is now available in four shade sizes and nine shiny porcelain enamel finish colors. It comes with with a standard black or white cord or you can choose a colored cotton twist cord. For even more vintage flavor, add a nostalgic Edison Style Light Bulb to your order!
Top photo courtesy of Morgan Allen