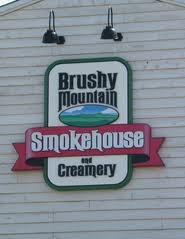 Deep Bowl Gooseneck Barn Lights with a Side of BBQ
Sitting in the shadow of the Blue Ridge Mountains in the far northwestern corner of North Carolina, Wilkesboro County is rich in Appalachian history. Home to many southern specialties like Native American crafts and bluegrass music, Wilkesboro even spawned the birth of NASCAR in 1949 from its illicit roots in moonshine running. In the heart of North Wilkesboro, we found the Brushy Mountain Smokehouse and Creamery, a friendly place that invites the whole family to sit back and enjoy the two things the proprietors love most — smoked, pulled pork barbeque and handcrafted ice cream.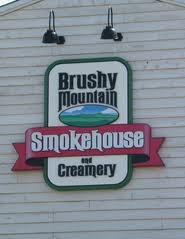 Beckoning friends and neighbors out front are two handsome, black barn lights, much like our Deep Bowl Warehouse Barn Lights. These rustic fixtures light up the restaurant's sign and entrance, and add just the right touch to this eatery known to the locals as simply The Smokehouse.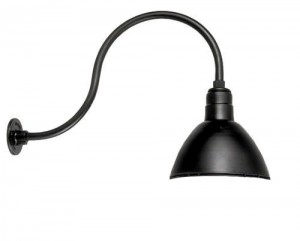 To get this look, choose the right size shade for your space. The Deep Bowl Barn Light comes in a seven-inch shade that would serve well as an accent light over a menu stand up to the 16-inch model that will light up any signage or landscape details outdoors. Dozens of sizes and styles of gooseneck arms are available for this fixture so you can customize how far your light will project from the wall. For a true rustic feel, add a wire cage to the light which comes in several colors, or add a guard and colored glass. While black is a fashionable look for The Smokehouse, your options for finish colors is long and varied. Go with a metallic or darker shade for a classic look or be bold with a splash of vivid color.
If you prefer a porcelain finish, check out the Goodrich® Wilcox Porcelain Deep Bowl Gooseneck. It features a very similar look with the added bonus of an extremely durable porcelain coating.
Top photo courtesy of Blueridgeroads.com