Decorative Ceiling Fans Beat Summer's Heat with Sizzlin' Style
With summer in full swing, at least in our part of the planet, great minds are turning to the question of how to keep cool for the next few months. Here in Florida, the AC is already cranked up, but even with the cool air flowing from the vents, it's helpful to have a ceiling fan. A fan helps circulate the air to make a body feel cooler and it helps save on the electric bill too. If you live in a region where AC is not a requirement once you flip the calendar to June, ceiling fans are still a bonus for every room in the house. Throw open the windows and let the fans do their duty to stir the breeze!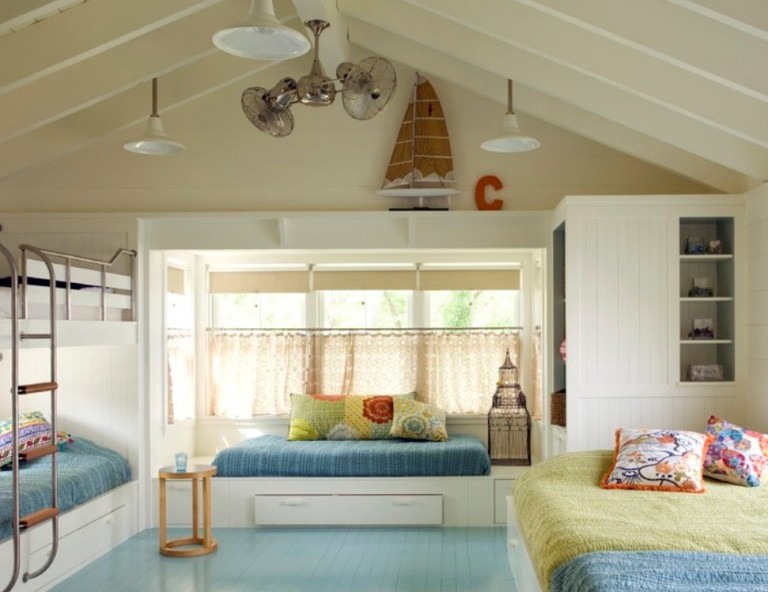 If you're looking for a fan that goes beyond builder-basic, big-box store brands, be sure to check out our selection of Decorative and Commercial Ceiling Fans that offers a wide range of styles from vintage and barn style to modern. The vintage ceiling fan in this adorable bunk room is as functional as it is beautiful. Much like our Dynamic Dual Rotational Ceiling Fan, this timeless fixture offers two motor heads that can be positioned in 180-degree arcs for optimum air movement. Choose from five traditional finishes including Black, Polished Chrome, and the stunning Polished Copper.
For a smaller version of this type of fan, don't miss the Donna Oscillating Guided Fan which provides maximum, multi-directional airflow. Great for tight or awkward spaces like laundry rooms, baths, or screened porches, this stylish fan comes in three distinctive finish colors and your choice of blade options that give it a variety of looks. It's American made and comes with a remote control so you don't have to budge out of your easy chair to turn on the breeze!
Top photo courtesy of Andra Birkerts Design and Charles Myer & Partners