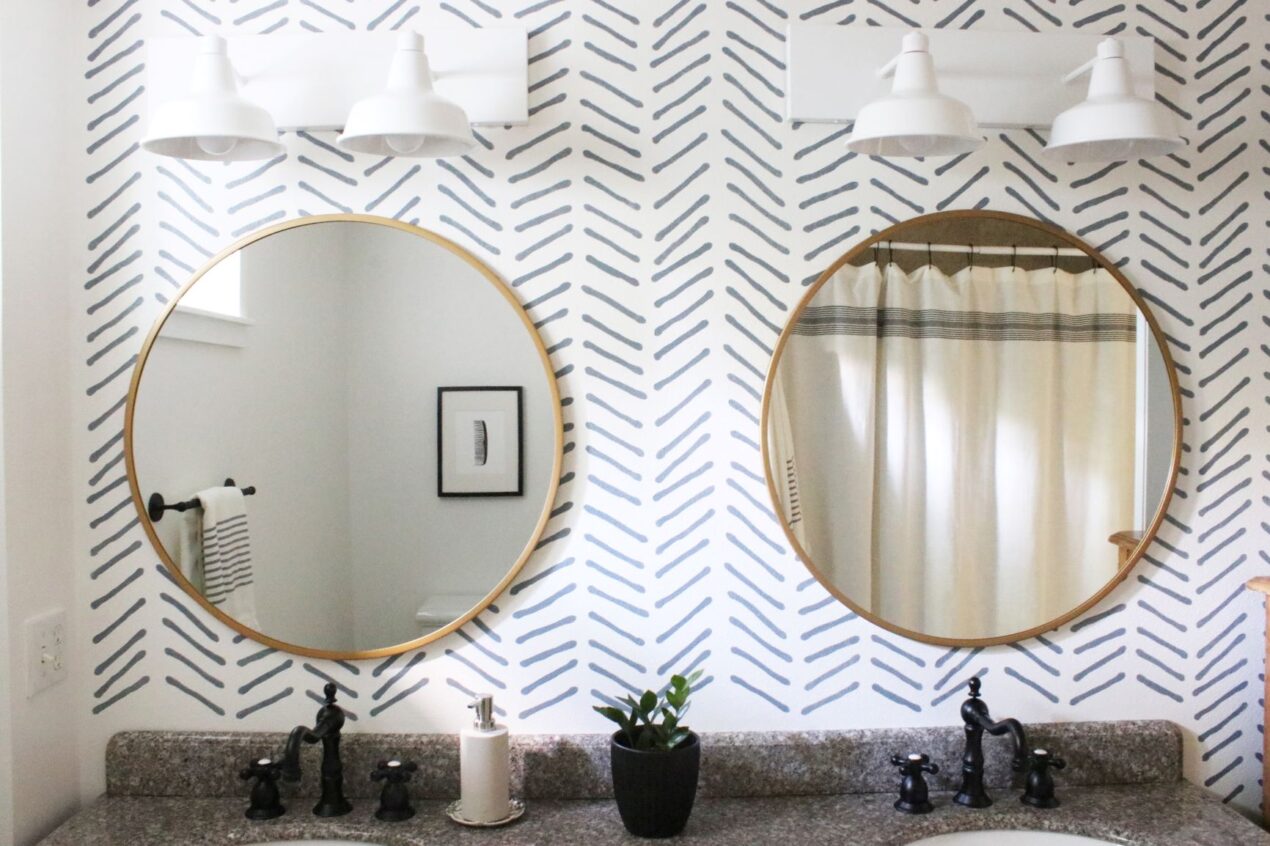 Crisp, White Vanity Lights Star in Updated Bathroom
When faced with a room that hasn't seen an upgrade since wood paneling and shag carpet were trendy, it's tempting to just rip it all out and start over. That was Melissa's predicament as she pondered her basement bathroom.
"We moved into this house five years ago, and the bathroom had been added by the previous owner years ago," Melissa says. "It was in decent shape, but felt dated and not in keeping with the style or character of our home."
As the creative mind behind The Inspired Room, Melissa is no stranger to creating dramatic spaces. Her goal was to take the bathroom from dated and drab to a more fun, coastal-cottage charming. And all with a few minor changes.
"We decided that rather than a full, tear-out remodel, we'd keep as many elements in place as we could," Melissa explains. "We chose to update pieces that would give the space personality. We were thrilled that these simple cosmetic changes made such a difference!"
As a long-time Barn Light Electric customer, Melissa knew where to turn for quality lighting in a simple, classic style. The existing lights were polished brass and too fussy for Melissa's taste, so she opted for vanity lights with a sleeker profile and personality of their own.
"I have always been a big fan of barn-style lighting and have installed several Barn Light fixtures in my homes," she notes. "They add just the right casual, coastal farmhouse style. I love that Barn Light offers a wide variety of styles, beautiful color options, and customizations for each fixture which helps us to create a unique look for our home."
For her outdated bathroom, Melissa chose the Austin Double Straight Arm Vanity Light in a White powder coat finish. Since the bathroom has little natural light, she opted to bring in lighter colors to make the mood fresh and airy.
"We love this fixture because it has two shades, and we love the simplicity of the straight arms," Melissa says. "Our previous fixture had three lights and curved arms." The new vanity light provides plenty of illumination from the 8″ shades and complements other Barn Light fixtures Melissa has upstairs.
"Light fixtures make a tremendous impact on the style and feel of a space. They are one of my favorite ways to update a home," Melissa says. "These lights truly transformed the style of our bathroom giving it the modern, coastal, fresh feel we were looking for! The quality is superb and we couldn't be happier with them!" Check out this post for the before-and-after pics from Melissa's bathroom remodel!
Photos courtesy of The Inspired Room