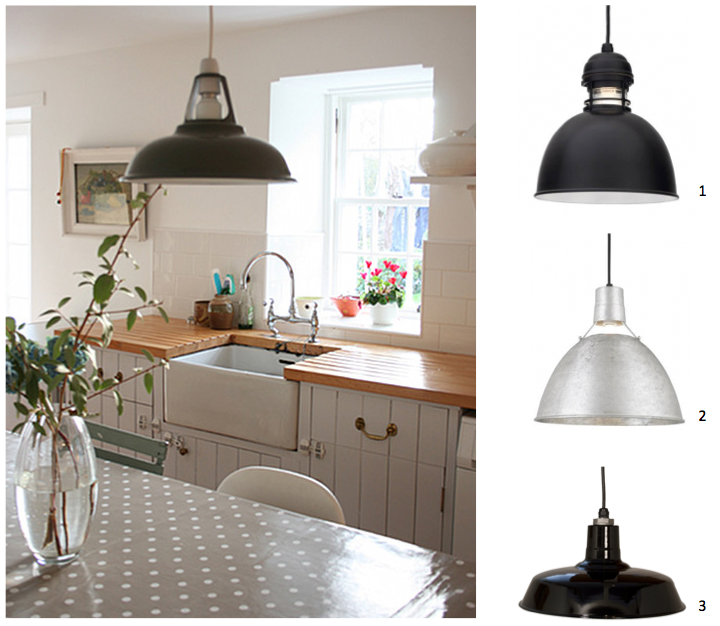 Country Pendant Lighting Found In Scottish Kitchen
Photo courtesy of Design*Sponge blog
1.) Barn Light 16″ Canon Warehouse Pendant
2.) Barn Light 19″ Outlaw Pendant
3.) Ivanhoe® Sky Chief Warehouse Pendant
From what looks to be straight from the country, is actually out of the country – Scotland to be exact. This quaint cottage can be found in Pittenweem, a small fishing village tucked in the corner of Fife which in turn lies on the East coast of Scotland. The home has an unusual, quirky shape – in the 1970's it was redesigned and made larger by using two neighboring cottages.
The owners chose to paint most of the home's interior white. The kitchen takes on a rustic feel with its farmhouse sink, paneled cabinets, and grooved, butcher block counters. Adding to the charm are eclectic worn chairs, fresh arranged plants from the garden, polka dots, and a dear to our heart, a warehouse shade. Although most of these purchases aren't available to us in America, we've put together a few of our own Barn Light Electric pendants that have similar shapes, features, and colors to assist in creating your own country style space.
First up is the Canon Warehouse Pendant. The Canon has a similar neck to the Outback with a guard and glass exposed at the top; this allows for several customized color and glass combinations and for extra added light to fan out across the shade.
The Outlaw has a deeper bowl, but by selecting a larger shade, the bowl begins to widen at the base. The wider shade selection is great for both large and small tables – larger shades will help light the entire space, while when placing it over a small table, it can become more of a focal point in the room. An open neck allows for a small amount of decorative light to escape and also to send lighting upward and fan out across the shade.
One of the newest editions to our products at Barn Light Electric has been the Ivanhoe® Sky Chief Warehouse Shade. Currently an exclusive product to our company, the Sky Chief has a unique porcelain enamel construction. This style of production was originally used around the 1940's on original agricultural warehouse shades, but soon disappeared. The sleek glass coating gives the black exterior and white interior, a more modern style and allows it to be used in multiple home's settings.