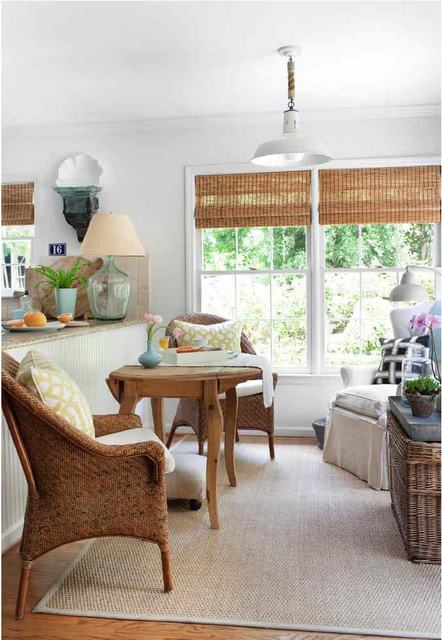 Coastal Industrial Lighting: Top Designers are Using It
Have you ever wondered how an interior designer's home looks? Is it always perfect? Do they change things around as often as you do? Sometimes designers give you sneak peeks inside their lives and homes on their personal blogs. It's no secret that we follow many of these, constantly keeping our eyes open for inspiration to share with our customers.

Occasionally, we'll even see a part of their home in a nationally distributed magazine. It's pretty fun when you get that "Aha!" moment, recognizing a room you've seen before. It just so happens that Sherry from Design Indulgence was featured in Better Homes & Gardens for her sitting room off the kitchen.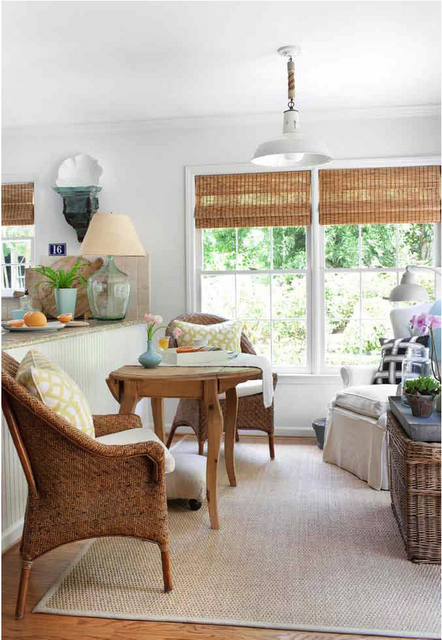 If you follow Design Indulgence, you've probably seen how this room has changed; she's always on the hunt for new finds at antique markets and boutiques. It's true that switching out a few pillows and moving furniture around can really make all the difference in the world. If you too are always swapping around your décor, you may want to keep your furniture and lighting somewhat neutral. Here, medium toned wood and white walls provide a clean palette for ever-changing décor.
To match with the coastal, beach cottage feel of the sitting room, Sherry chose industrial style lighting to hang in the center of the room. Coordinating with the walls, she used a single white barn lamp that blends in, yet stands out all at the same time. Industrial light fixtures like this aren't too hard to come by these days – whether you're searching for authentic vintage lights or reproduction models.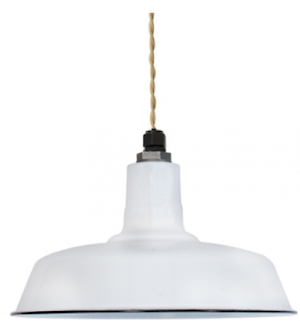 Our recommendation is the 16″ Ivanhoe® Sky Chief Warehouse Porcelain Pendant. You can order this shade in a sleek, White enamel finish, and choose our Putty colored cotton twist cord to match the look of the rope. This same line of modern porcelain barn lamps can be ordered in additional sizes, styles and colors too. You may wish to use this featured model in a small seating area, yet choose to use our smaller Ivanhoe® Sinclair above your island workspace or farmhouse sink.
Top Photo Courtesy of Design Indulgence and Better Homes & Gardens