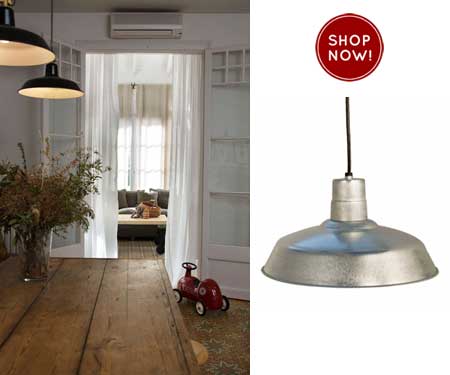 Classic Warehouse Shades As Seen On Design Sponge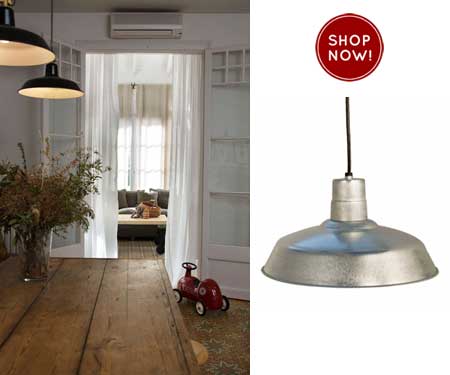 Many warehouse shades similar to the barn pendants sold at Barn Light Electric Co.® are featured on Design Sponge – an interior design blog.
The first example comes from a Design Sponge post showcasing the new home of Lisi and Alex, a young family in Barcelona, Spain. With a baby on the way, the couple sought a home with "a soul, a story and a history." Once they found the house of their dreams, they collaborated with a designer who refurbished the house who respected the old construction, while making the new design changes look contemporary and organic to the home's original style at the same time. At Barn Light Electric Co.®, we apply the same design philosophy to our vintage inspired light fixtures. Our barn pendants are based on the RLM warehouse shades that were originally popular around 1930.

Above, a pair of black warehouse shades resemble our Barn Light Warehouse Pendant, which starts at $99 and is a available in shade sizes ranging from 12″ to 27″. The black shades hang over the rustic farmhouse table and become a focal point of the room. Simple elegance defines every aspect of the interior, from the white linens and french doors, to dried flowers placed upon the table. The pendants are a perfect final touch to complete this calm setting.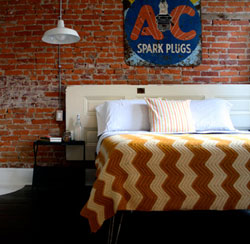 Another Design Sponge featured home utilizing the Barn Light Warehouse Pendant is found in the guest bedroom of a refurbished a 1915 house in the Northeast. The white warehouse shade against the original brick wall and rusted metal sign combine for a theme that resembles that of an industrial factory wall. Cord hung warehouse pendants are a wonderful alternative to table lamps in bedrooms. Their height can be easily adjusted by using less or more cord. Plus, it will provide overhead lighting as compared to lamps, which can sometimes project a brighter light at your eyes.
The third example from Design Sponge comes from Northumberland National Park in northeast England, where a jadite colored pendant hangs over the home's breakfast bar made from a tree trunk. Similar pendants found at Barn Light Electric include the Ivanhoe® Bomber, which comes in a 17″ porcelain enamel shade size. Another option to consider is our Ivanhoe® Sinclair, which features a much smaller 10″ shade.

During our Barn Light Electric Co.® Holiday Sale (December 22, 2010 to January 4, 2011) you can purchase any of the featured shades today for 10% off. At checkout, just enter the coupon code: BARNLIGHT11