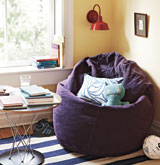 Classic RLM Style Available in New Barn Wall Sconce
For centuries, the phrase "everything old is new again" has been used by authors, philosophers, songwriters, poets, and even businessmen to emphasize that nothing ever really changes. History very often repeats itself yet everything seems new. And if you take a look at the newest member of the Barn Light Electric family, you'll certainly see some classic characteristics of rustic, old-style barn wall sconces.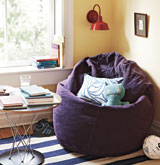 The Arlington Wall Sconce, which is very similar to the handsome red fixture shown here, embodies the classic RLM style of shade in a smaller size, perfect for cozy reading nooks like this one. No clunky floor lamps to take up space or exposed wires dangling down the walls, but a simple light hanging directly over the spot where you need it most. With a decorative wall plate that mimics the shade itself and a slender gooseneck arm, the Arlington Sconce is not only functional but becomes a stylish design element in the space as well.
The smaller profile of this fixture gives you the flexibility of casting light in places you perhaps thought difficult to brighten such as a bathroom, a small closet, or between the doorways of a long hallway in a commercial setting. With a price below $100, this fixture will fit any space or budget.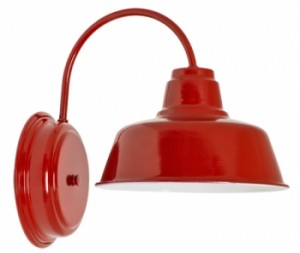 The powder coat finish on this light is very durable and performs well both in exterior and interior applications. If you have a busy space with lots of color, perhaps you'd like a more neutral shade, say black, white, or galvanized for your light. But if you'd like to take a bold step forward with your new Arlington Sconce, we have brighter options like barn red or vintage green. No matter which finish you choose, your American made barn light will bring long lasting style, color, and light to your space for years to come.
Top Photo Courtesy of Real Simple