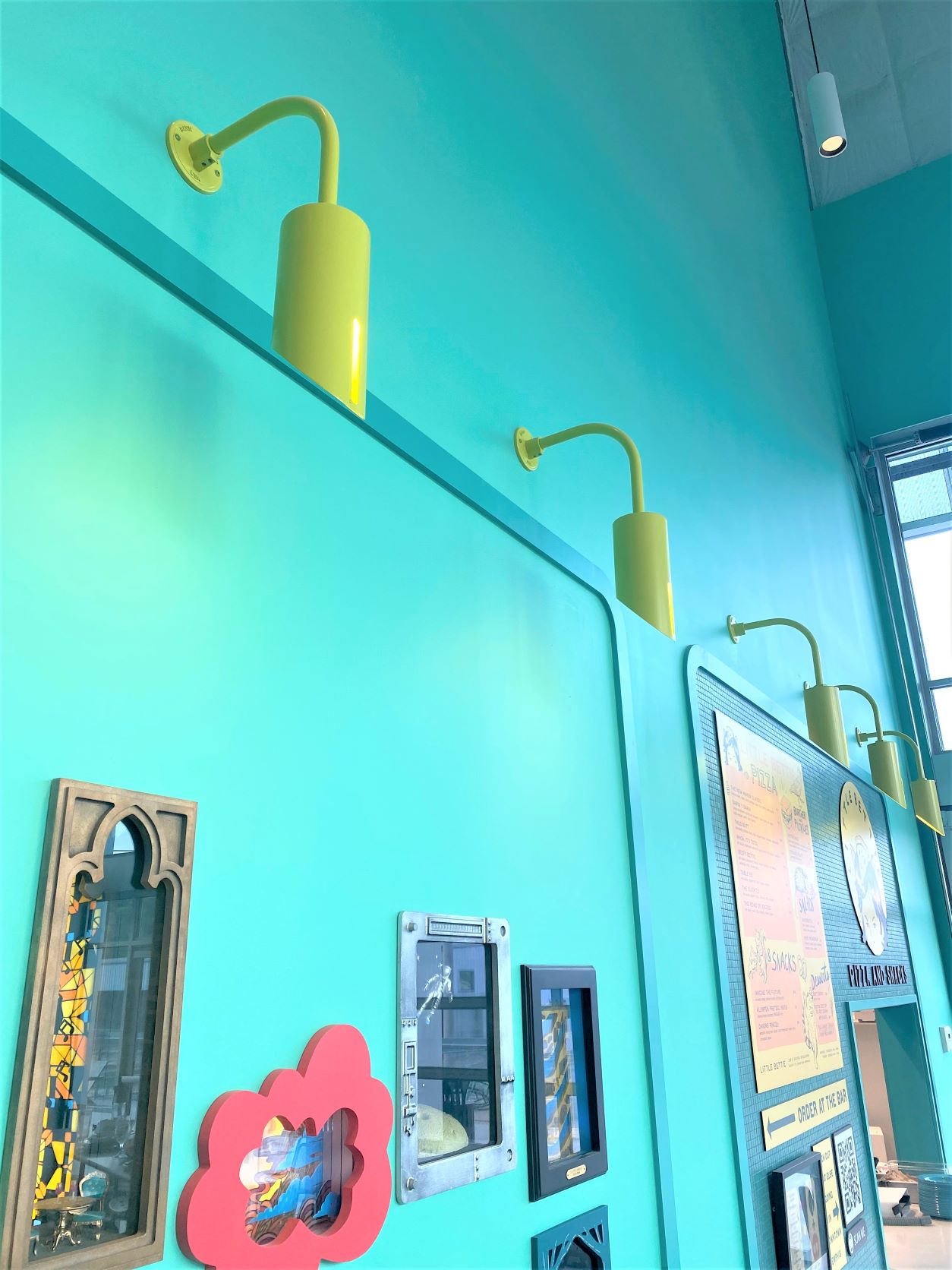 Cheers to Sassy, Stylish Lighting at Memphis Brewery
For almost a decade, brothers Davin and Kellan Bartosch immersed themselves in the study of craft beer. Davin delved into the brewing while Kellan focused on the business side and became a certified cicerone. After years of traveling, tasting, writing about, and crafting beer, the duo opened Wiseacre Brewing Company in their hometown of Memphis, Tennessee.
All those years of preparation led to immediate success. Davin and Kellan recently opened a second location for Wiseacre which houses a taproom, production facility, and Little Bettie, a pizza and snack bar.
"Our first location was within an existing building so there was some character already built into it," Kellan says. "Our new space was a ground-up build so we decided to go more arty, odd, and fun."
The brothers collaborated with Blas Betancourt, an interior designer in Memphis. He recommended Barn Light Electric for lighting to complement their design which centered on seafoam green as the primary color.
"We use a ton of different colors on our can art, but we wanted to put our flag down on one color to be identified with," Kellan explains. "Since everything in this building was brand new, we had to find stylish and arty ways to be unique." They found that perfect combination in the Milan Cylinder Gooseneck Light.
They customized these American-made gooseneck lights with a large cylinder, single standard slot, and G13 gooseneck arm. They also chose a playful Chartreuse finish as the perfect complement to their color palette.
"We think these lights are both stylish and fun! That combo is important," Kellan notes. "We definitely did NOT want to be too cool. This is a brewery and taproom, not a club in Vegas, so we wanted to stay away from fancy or extravagant." Kellan adds that they chose the large cylinder because the space is huge, and the lights are definitely noticeable while being complementary to the overall vibe.
"The Chartreuse is a good simpatico color to all the seafoam green," he says, "and the gooseneck arms are stylish, simple, and eye catching but not trying to be the center of attention." The Milan Cylinder Gooseneck is handcrafted from commercial-grade materials that can stand up to the rigors of a busy brewery setting.
"These lights are stylish and fun at the same time which I think is hard to achieve," Kellan says. " Sometimes fixtures can be so sleek that they lose any sense of whimsy, but in a brewery, we needed them to be both. These lights have been rad!"