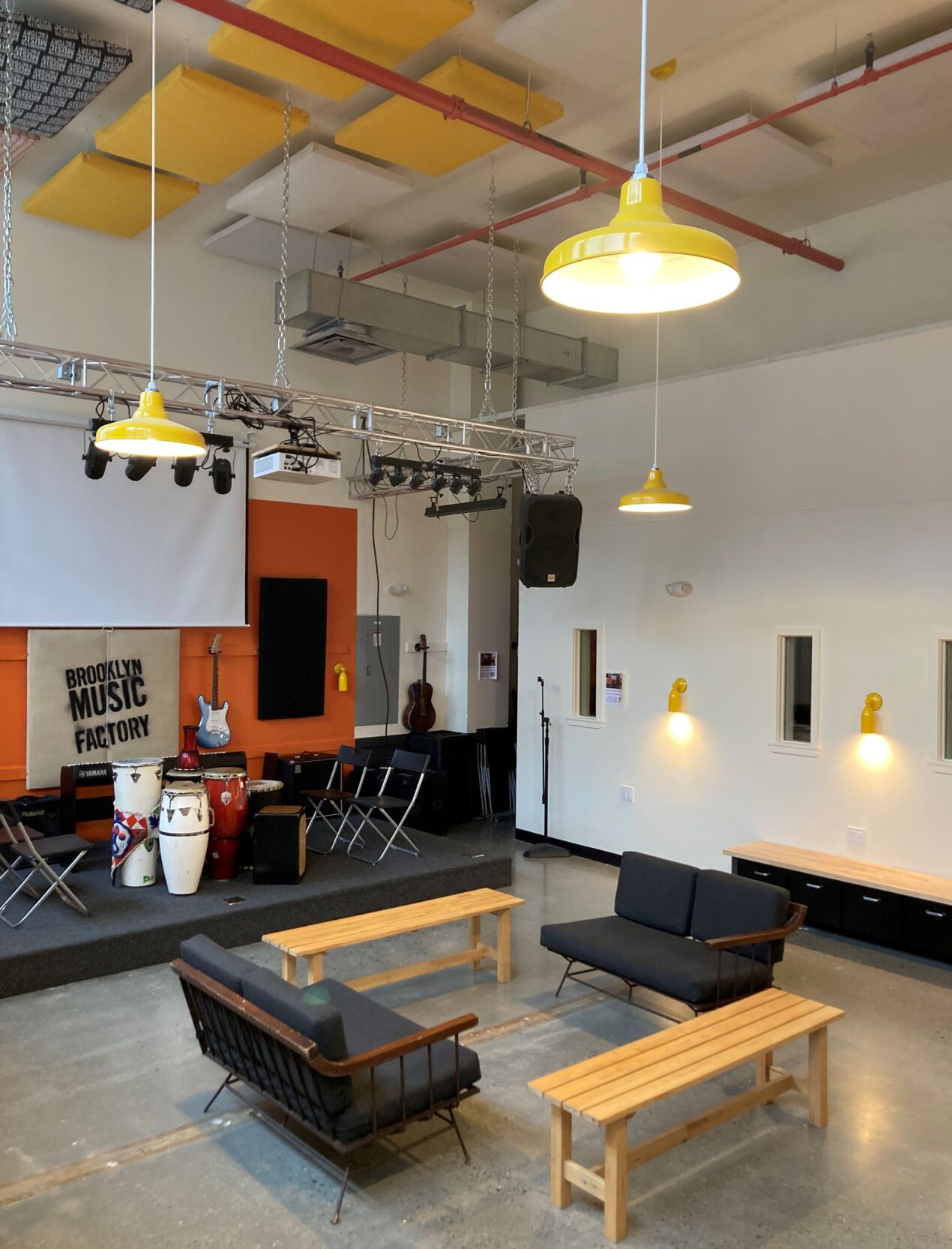 Industrial Lighting Hits All the Right Notes in Music School
The Gowanus neighborhood in northwest Brooklyn, New York was historically an industrial area bustling with manufacturing facilities. In the last decade, more restaurants, bars, and art galleries moved in as did the Brooklyn Music Factory, a music school for both kids and adults, that opened in 2010.
The BMF recently moved into a new building in the Gowanus neighborhood. Jessica Tolliver, director of families and communication, shared the creative strategy behind their new space.
"Our design was guided by a couple of ideas," Jessica explains. "One is our name and the fact that we're located in a neighborhood that historically had a lot of manufacturing. We lean into the factory look but also wanted our space to feel warm, welcoming, and joyful." She adds that they aimed for materials with an industrial vibe but included colors and textures to give the space warmth.
When searching for lighting for the school which is located on the ground floor of the new building, Jessica discovered Barn Light Electric online. She was attracted to the industrial designs and color choices she found there but was also happy to support a small, family business.
The community room is where students and families gather before and during lessons and where student gigs and performances are held. Jessica wanted the gathering space to feel welcoming and comfortable. She selected the Union LED Pendant Light to illuminate the area.
Jessica customized these handcrafted pendants with generous 16″ shades, a Buttery Yellow finish, and standard white cords. She also selected the 300 lumens, 2700K color temperature, and domed lens.
"The ceilings in this room are very high, so we chose pendants to visually lower the ceiling," Jessica notes. "Our brand color palette is warm reds, oranges and yellows, and our design revolves around those colors. The Buttery Yellow fits in perfectly, and the space feels comfortable and inviting, like a cozy living room."
For the merchandise display, the project architect specified Barn Light's Bullet Dual LED Sign Light. This energy-saving LED light features the same Buttery Yellow finish to match the pendants, an 18″ width, a 26″ projection, and clear glass. For the hallways, matching Bullet Flush Mount LED Sign Lights bring light to these well-traveled spaces.
"We wanted the lights to be one of our brand colors instead of a more standard black or white. And the industrial design fits in well with our overall look," Jessica explains. "I like the simplicity of the clear glass, and we chose the dimming option to control the level of light since we do a lot of events."
The integrated LED module in these American-made sign lights offers an average of 50,000 hours of service with no bulbs to change making them both energy saving and environmentally friendly.
"We get so many compliments on the lights. The Buttery Yellow is perfect, and I love the heavy-duty and durable material," Jessica says. "The quality of the light itself is so warm and inviting, and it creates a wonderful vibe."
Photos courtesy of Brooklyn Music Factory