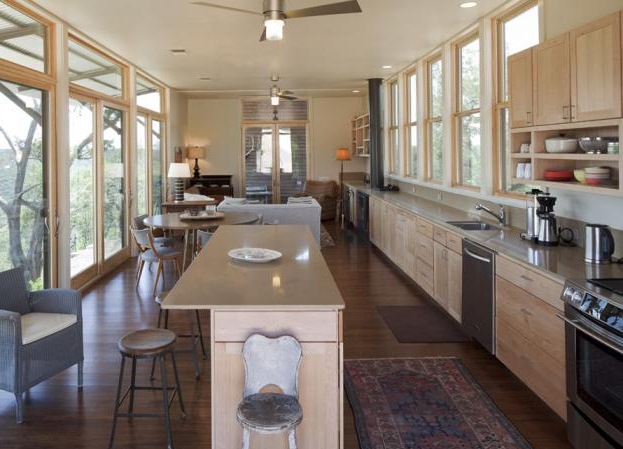 Ceiling Fans Lend Cool, Modern Touch to Texas Space
Lots of light and a stunning view of the Texas Hill Country are the main features of this beautiful space which includes an elongated kitchen, dining area, and living room. The floor-to-ceiling windows on the left give a real sense of being outdoors and on the right, the counter running the length of the room provides plenty of work space above and storage space below. Although one long, open space, each area is neatly defined with the placement of furniture, and both table and floor lamps provide ambient lighting to complement all of the natural light. Keeping the Texas heat at bay are two sleek modern ceiling fans, much like our Zonix Ceiling Fan, with a finish to match the stainless kitchen appliances.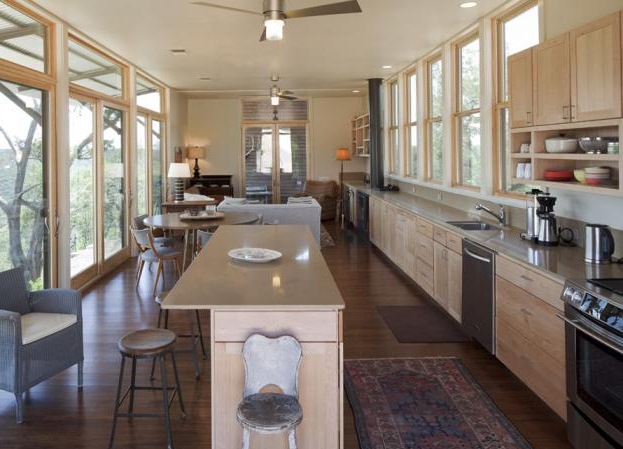 The Zonix Ceiling Fan sports minimalist style with its three blades that feature a 54″ sweep. You can create a number of different looks with this fan by choosing the same finish for both the housing and blades, or getting a bit creative by mixing and matching finishes. The housing comes in either a satin nickel or oil rubbed bronze finish. Two blade sets are available including the matching satin nickel finish or a reversible set that features cherry on one side and walnut on the other. You can add a light kit to this fan, and downrods come in eight sizes ranging from six inches to 72 inches.
Now you may ask yourself….do ceiling fans really help cut cooling and heating costs? The answer, according to the Environmental Protection Agency, is a definite yes! In the summer, ceiling fans can reduce your use of air conditioning by creating a breeze in the room which gives a wind-chill effect on your skin. In the winter, by reversing the blade direction, you can help force the rising warm air back down into the room to keep you cozy!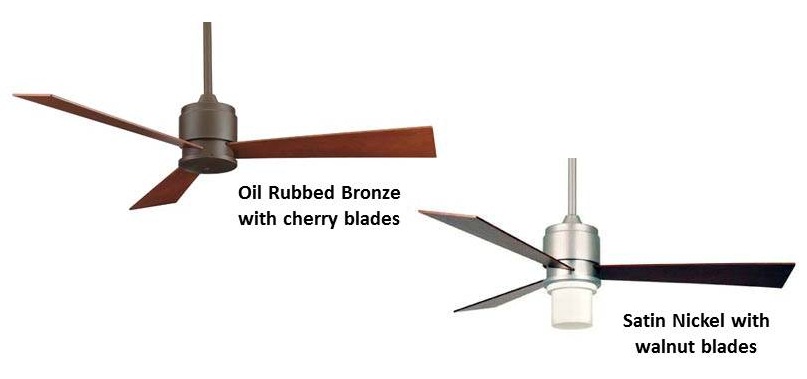 Top photo courtesy of Lake | Flato Architects and Photographer Frank Ooms