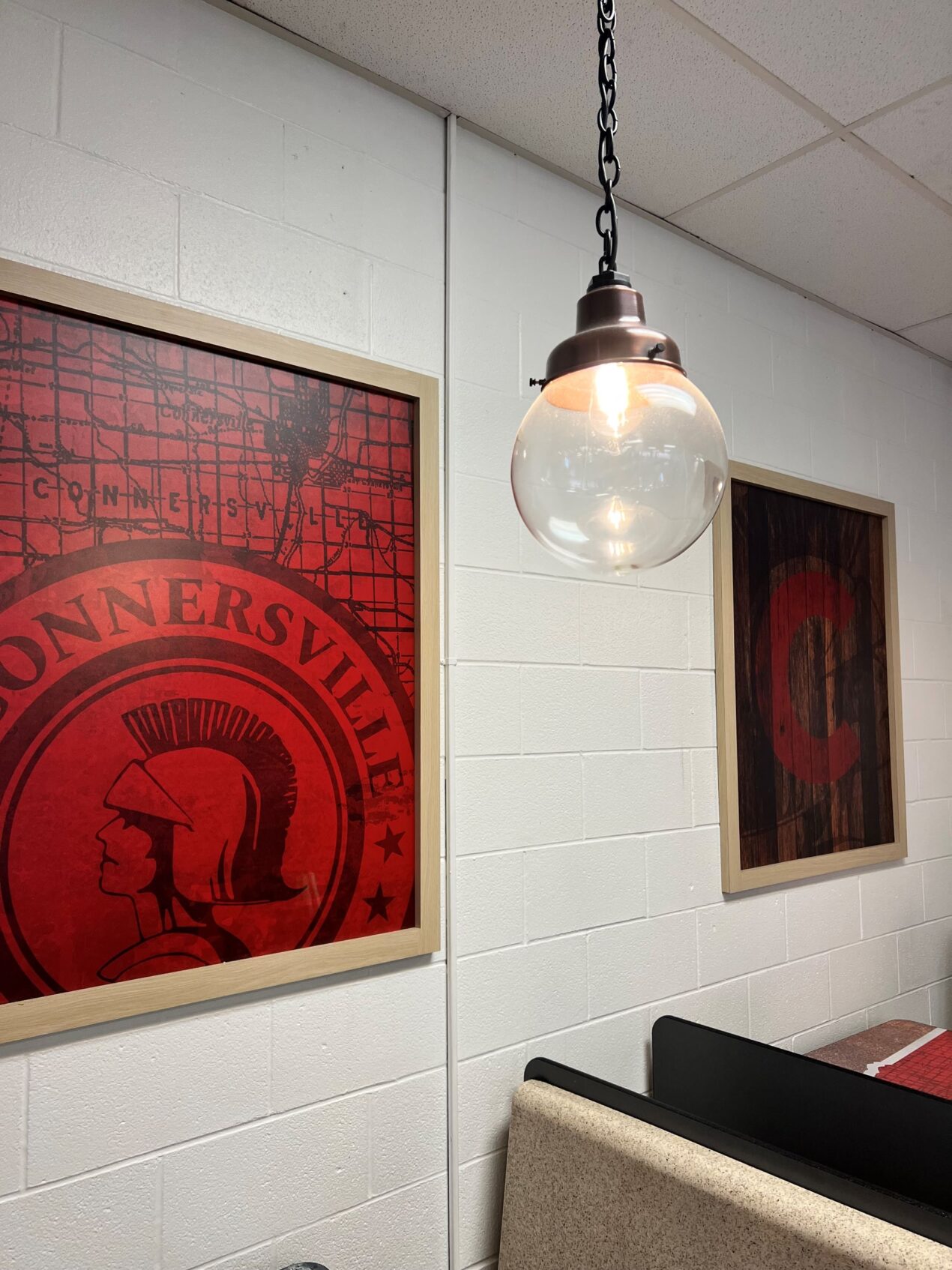 Cafeteria Renovation Gets A+ with Classic Schoolhouse Lighting
Remodeling jobs can run the gamut from a full gut, down-to-the-studs makeover to a simple sprucing up of fixtures and décor. On a recent project at Connersville High School in Connersville, Indiana, school officials turned to the expert team from Palmer Hamilton to update the school cafeteria.
"This was, for the most part, a cosmetic remodel," says Leah Downey, registered interior designer with Palmer Hamilton Design. "We added new paint, wall applications, graphics, furniture, accent lighting, and new equipment."
Palmer Hamilton began manufacturing high-quality cafeteria tables more than 70 years ago. The business has expanded to providing furnishing solutions that are durable, stylish, and easy to use. For the cafeteria remodel, Leah notes that the client wanted a modern environment where students wouldn't feel like they were sitting in a school cafeteria.
"They also wanted to tie in both school and town pride without being over the top with school colors," she explains. "We mixed in some natural wood and metals to help tone down the school colors." As Leah began the search for lighting, she turned to Barn Light Electric for easy-to-customize and durable fixtures.
For the booths and window seats, Leah chose the Round Schoolhouse Chain Hung Pendant. These American-made fixtures are customized with clear glass, a Weathered Copper finish, and black chain, canopy, and cord.
"These make these seating arrangements feel more intimate and bring a tinge of traditional feel amongst a room full of more modern finishes," Leah explains. "Aesthetically, I think the finishes work well."
For the kitchen and serving area, Leah opted for the Wilcox Uplight Wooden Top Pendant. She selected 16″ shades customized with maple wood and a Barn Red finish. These handcrafted pendants are suspended from the ceiling with standard black cords.
"We like the mix of metal and wood with these pendants," Leah notes. "The Barn Red brings a pop of color into the serving area and the maple wood matches some of the wood in our graphics. And you can't go wrong with a black cord!" The newly renovated space was met with accolades this fall from students and staff alike.
"Our client loves the lights. They draw your eyes away from the boring drop ceiling and fluorescent lights," Leah says. "Barn Light Electric is one of my go-to lighting sources because of the customization options!"
Photos courtesy of Palmer Hamilton