Bringing the Outdoors In with Exterior Pendant Lighting
You would be surprised who is buying into the industrial trend being spotted all over the Internet nowadays. This photo from Vogue was featured on Apartment Therapy for the vintage photo gallery wall. Typically, Vogue is looked at as a place to find all things luxurious and lush, but we're digging the plank wood table paired with the worn-in chairs.

It's not always acceptable to use items that are primarily for interior use outdoors. For example, that new cowhide rug you spent a small fortune on? Ruined almost right away in the rain. It doesn't always work the same way, bringing muddy feet and creatures inside from the woods isn't exactly every housewife's dream of a "rustic heaven."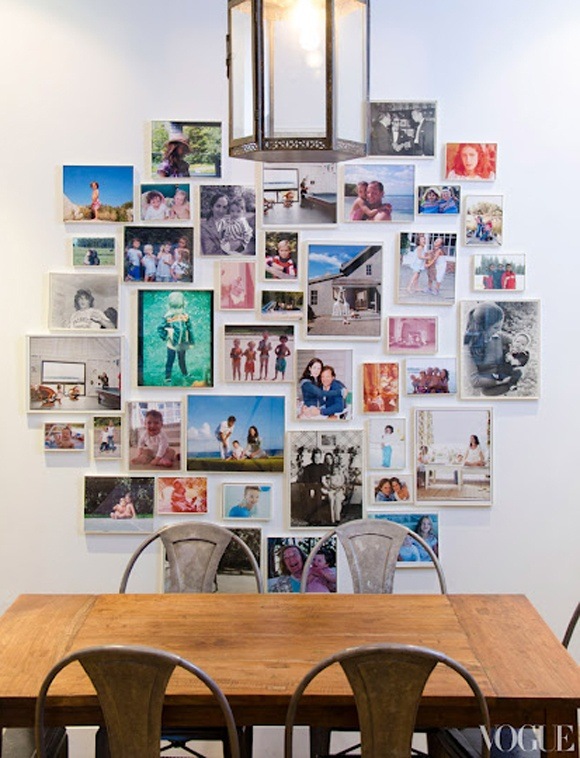 But this room is almost the perfect combination of indoor and outdoor living. There's no doubt that the chairs and table would hold up in harsh conditions! Our eyes initially were caught by the charming vintage photos, but then we caught sight of the ceiling light above. Bearing a strong resemblance to many of our Exterior Pendants, this one definitely shows some patina of age. Outdoor lantern lights are probably one of the simplest ways to adds vintage character to your dining areas.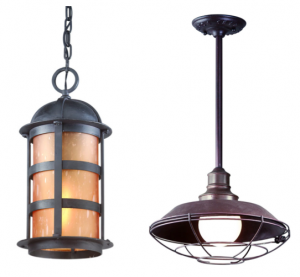 Instead of hanging a chandelier or resorting to recessed can lights, consider the Aspen Exterior Pendant. A hand forged iron pendant with seeded amber glass will contribute to an intimate and unique atmosphere. If this is a little too lantern like, something like the Period Basics Circa 1910 Exterior Pendant may be more up your alley. Bridging the gap between warehouse and exterior lighting, this particular pendant comes equipped with a removable wire cage to suit your setting. To streamline the look, check out the matching wall sconce and post mount lantern to add some industrial era charm throughout your home.
Top Photo Courtesy of Apartment Therapy