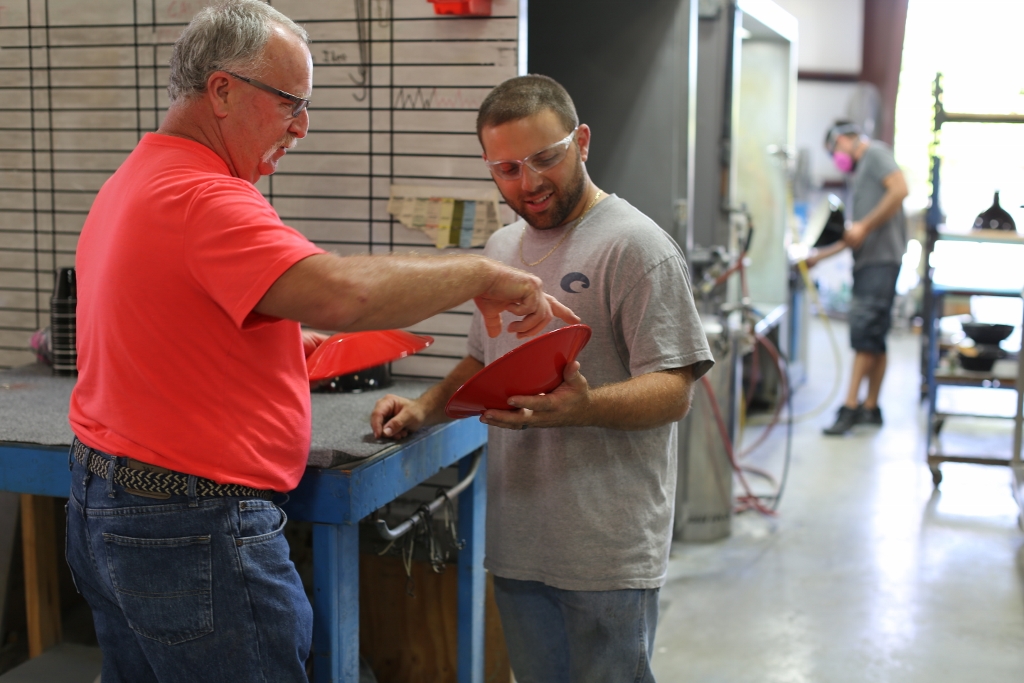 Behind the Scenes | Titusville Native Learns, Grows with Barn Light Electric
Customers sometimes ask whether our lighting is simply shipped from overseas then finished here in the United States. One person who can easily answer that question is Josh, our manufacturing supervisor. Josh has worked on the Barn Light team for almost eight years and watched the company grow from a fledgling operation to one of the country's premier manufacturers of vintage-inspired lighting.
"I started with the company as a welder then moved on to pipe bending, running the water jet, cutting molds, and learning software to run the equipment in the machine shop," Josh says. "We definitely craft our lights from scratch right here in Florida."
Josh now spends his days moving from the machine shop to the powder coat area to the porcelain shop where Barn Light's exclusive porcelain enamel lights are sprayed with porcelain enamel glass then fired in a massive oven.
"I communicate with our leads to figure out ways to better our processes," he explains. "I work with April to push orders out on time, keep track of large orders, and set projection dates for shipping. I also focus a great deal on safety measures throughout the facility."
Josh also helps cross train team members. When one area gets backed up, he moves trained employees between departments to keep orders moving from machine shop to paint to assembly to shipping.
Born and raised in Titusville where Barn Light is located, Josh loves the challenges his job presents.
"Learning new skills is a challenge and I like working with my team to complete the tasks at hand," he notes. "Learning all of the equipment and processes is something I really enjoy." He adds that he appreciates how much the owners of Barn Light put back into the company.
"They spend the money to improve the company with better equipment and the things we need to be safe," Josh says. "Over the years, they put me through a four-year machinist apprenticeship program along with other training classes. I really appreciate how much Barn Light Electric has done for me."