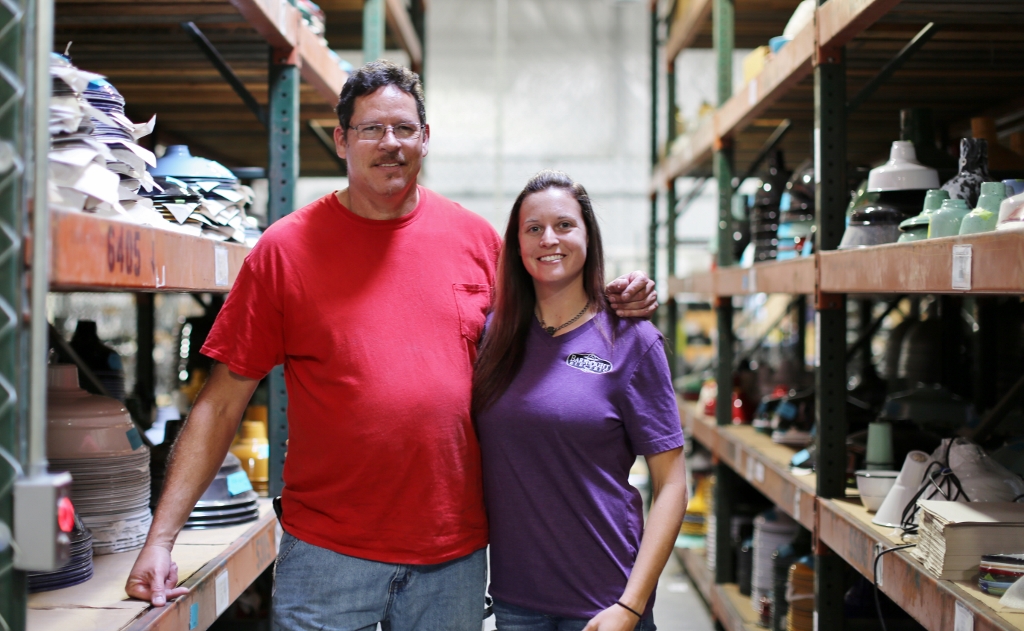 Behind the Scenes | Celebrating Fathers at Work
The bombardment of ads for watches, wallets, and World's Best Dad t-shirts must mean Father's Day is right around the corner. That special weekend when we celebrate the fathers, stepfathers, grandfathers, and father figures in our lives with cookouts, cheesy gifts, and lots of love.
On this Father's Day, Barn Light Electric is celebrating four special pairs of employees on our team — three fathers and their sons plus a father and daughter who work side by side each day handcrafting, finishing, assembling, and shipping our American-made lighting.
Jordan has been with the company for five years and has worked in almost every area including assembly, shipping, and inventory. He currently spends a lot of time with the R&D team putting his engineering skills to work and creating drawings for new product development.
He convinced his dad Richie to join the team two years ago. Richie has worked as both a Maintenance and Quality Control Supervisor plus pitched in with pre-assembly and shipping too.
Glenn and his son Jonathan are originally from New York. Dad was featured back in 2015 in this Employee Spotlight post. Glenn has worked his way throughout the machine shop and is currently the master of the water jet which cuts multiple sheets of metal using crushed garnet and water.
Glenn's son Jonathan joined Barn Light Electric over a year ago and also works in the machine shop. As a Metal Fabricator, he operates both a mill and lathe to create the pieces and parts for every light we manufacture.
Amanda was looking for a change from the oil company where she worked when she joined Barn Light Electric in 2012. The job was closer to home and she enjoys working for a family-owned business. As an Inventory Expediter, Amanda spends her days keeping track of tens of thousands of light shades, cords, stems, nuts, bolts, and every other piece of hardware needed to assemble our barn lights.
Johnny, a Navy veteran, joined his daughter at Barn Light Electric less than a year later. He is a skilled Press Operator in the machine shop and does his best to keep up with the spinning team who hand spin light shades each day. Seeing his daughter during the work day is a bonus!
Our newest father/son team are getting ready to celebrate their one-year anniversary of joining the Barn Light Electric team this summer. Richard Jr. was excited about creating a career with the company while Richard Sr. enjoys the family-owned aspect of the business.
Dad is often found in Shipping getting orders out the door and also serves as a Senior Maintenance Technician….
…while just around the corner, Richard Jr. is learning the ropes in the Prep Department where he helps prepare light shades and other parts for either porcelain enamel or powder coating.
These family teams are all part of the bigger Barn Light Electric family and we're very grateful for all of the talents, skills, and good humor they bring to the job each day. Happy Father's Day to all!