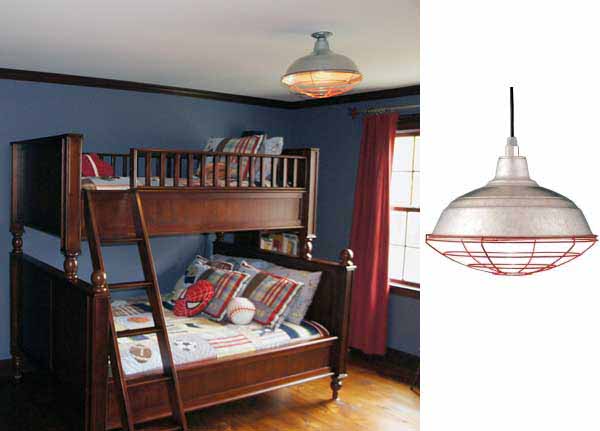 Baseball Themed Bedroom Incorporates Unique Pendant Lighting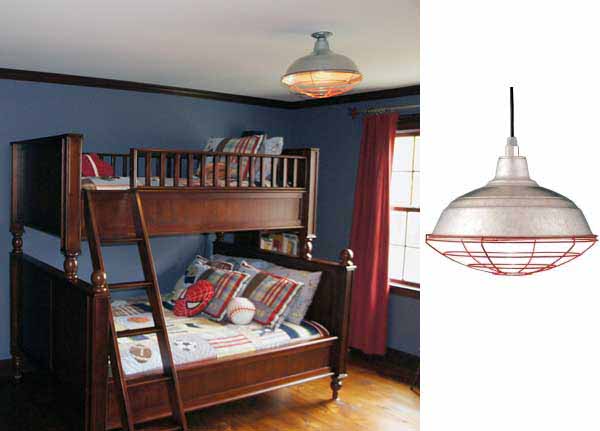 Click HERE to order the Barn Light Warehouse Pendant
Another photo was sent in from a customer who couldn't wait to show off her new galvanized pendant – so soon, she hasn't even finished decorating yet! This photo comes from a mother in the process of converting her son's bedroom into a sports themed space dedicated to the New York Yankees.

A 17 inch Barn Light Warehouse Pendant in a galvanized metal finish was chosen for the space. Galvanized metal is known for being a durable yet highly stylish material – what better fit for a growing boy's bedroom! A unique feature to many of our barn light pendants are the addition of optional accessories. The customer today chose to include a red wire cage to go over the base of the shade. This wire cage was a perfect choice as it resembles many of the lights found around locker rooms and hallways of historic baseball stadiums. Once the final Yankees' gear is brought into the space, we're confident this room will be a big….hit!
The Barn Light Warehouse Pendant is a popular choice among parents who are renovating their kids rooms with an emphasis on vintage and rustic themes. When Jenni Weston decided to transform a former spare bedroom into a playroom for her two sons, she added a similar galvanized All Weather Farm Light Stem Mount pendant. The light complemented the playroom's creamy white wood walls, striped rug, and chipper fabric curtains.
If today's fixture looks familiar, you may also recognize it from the Hill Family featured on Extreme Makeover Home Edition. A number of 17" Warehouse Pendants with red wire guards were suspended from the ceiling around the sports themed basement.
The featured pendant today starts at $99 each. For more information about the galvanized Barn Light Warehouse Pendant and other barn pendants, visit barnlightelectric.com.