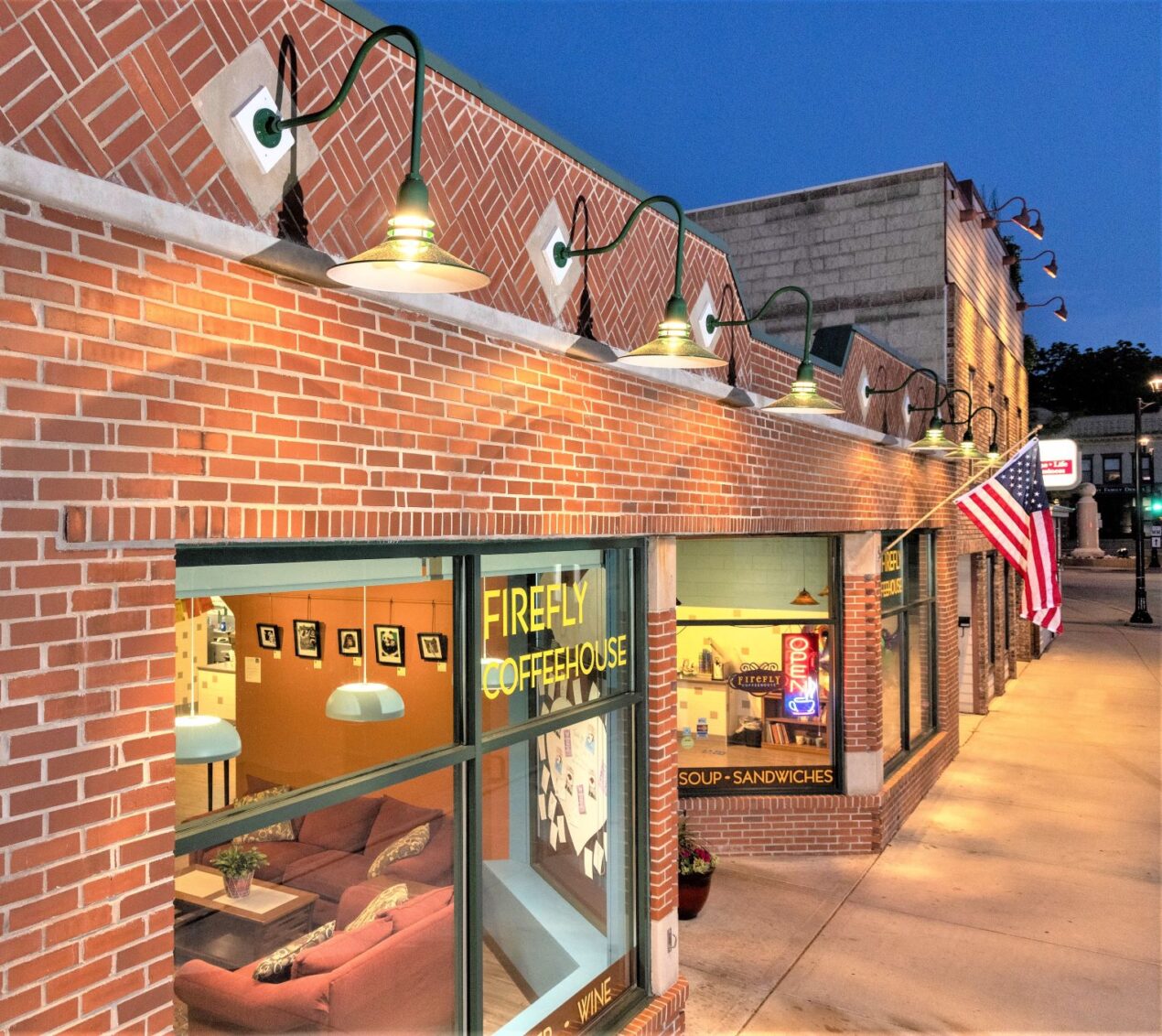 Attractive LED Lighting Enhances Small Town's Favorite Gathering Place
Every small town has a special spot favored by the locals. In Oregon, Wisconsin, a small suburb of Madison, the community gathering place is Firefly Coffeehouse. With a rich history dating back to the 1950s, the coffeehouse is known as "Oregon's living room" by the townspeople who flock there for the espresso and made-from-scratch goodies.
"The building was a grocery store until the late 1970s," says Uriah Carpenter, who owns the coffeehouse with his wife Jeanne. "Firefly Coffeehouse opened in 2000 and we are the 4th owners." Uriah notes that Jeanne manages the shop while he handles building maintenance tasks and dishes on the weekends. That maintenance included upgrading the building's outdoor lighting.
"The previous goosenecks were installed about 30 years ago and were very faded with lots of rust," Uriah explains. "The electrical boxes on the building were also failing, so they were becoming a safety hazard. When we purchased the building, the brick had significant deferred maintenance issues, and we recently fixed the problems by tuck-pointing the façade." Uriah and Jeanne searched the web for something more visually interesting than standard sign lighting.
"We like to support USA-based manufacturing and are happy to pay a premium for quality-made products," he notes. "LED is a must, and we like the ability to choose from a wide variety of gooseneck styles." The couple found Barn Light Electric's collection of gooseneck lighting and chose a classic RLM warehouse shade but with modern details.
The Cherokee LED Uplight Gooseneck Light offers a sleek, flared shade that throws generous light. Horizontal vents in the neck add a soft touch of uplighting. The couple customized their new gooseneck lights with 18″ shades and a powder coat Emerald Green finish. They also opted for G24 gooseneck arms and ribbed glass.
"We particularly like the light pattern of the wide rim that gives a really cool, rounded cast on the façade," Uriah says. "They look really cool in the evening and fade away during the day because they don't have a lot of vertical height."
The Cherokee, like all of our handcrafted LED lighting, blends aesthetics with function. The LED module is integrated into the fixture's design creating an efficient, eco-friendly fixture with low maintenance costs. And no bulbs to change!
Thanks to the couple's renovation efforts and amazing menu, the coffeehouse was named one of Dane County's 2021 Small Business Award Winners.
"We were lucky enough to be chosen as one of Madison's small business award winners and scored the cover!" Uriah says. "Our kitchen is always busy, our food is always fresh, and our baristas are always smiling behind their masks!
Photos courtesy of Firefly Coffeehouse