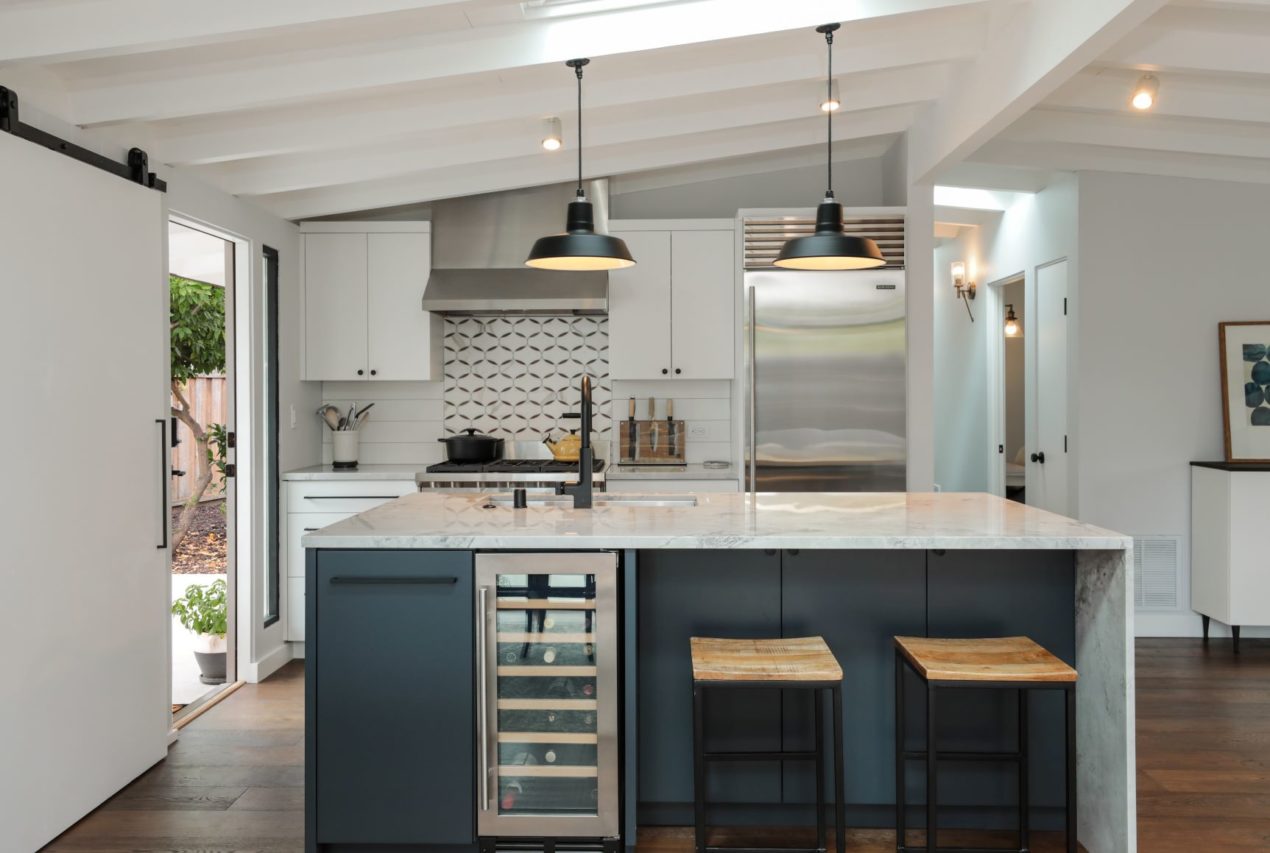 Barn Pendant Lights Bridge Mid-Century Modern, Farmhouse Styles
We hear a lot of comments from customers describing what they like best about their new lighting from Barn Light Electric. Things like "superior craftsmanship" and "American-made quality." But most would agree that their favorite feature is the abundance of customizing options.
When Jennifer Pandit, of Greenberg Construction, took on the gut remodel of a mid-century modern home for a client in Mountain View, California, she needed lighting that would bridge the gap between the home's mid-century bones and the contemporary-transitional farmhouse the owners envisioned.
"We wanted to create a beautiful and open-concept living space for entertaining while maximizing the natural light throughout this home," Jennifer says. The construction team removed a large center wall and brick fireplace between the kitchen and dining areas to allow for a seven-foot island in the kitchen.
"There is an abundance of light coming through the floor-to-ceiling windows plus we added skylights," Jennifer explains. "We used black finishes throughout with custom, black aluminum windows and a three-panel sliding door."
For the island, Jennifer searched Pinterest for pendant lighting with a farmhouse style that would tie in with the mid-century modern look. She chose the classic Original™ Warehouse Cord Hung Pendant. Thanks to Barn Light's customizing menu, she could choose from seven shade sizes, 41 finishes, and 22 different cord options to get the desired look.
Jennifer customized her client's new barn lights with 14" shades, a Textured Black finish, and standard black cords.
"This pendant offers a classic look to offset the modern style," Jennifer notes. "The size and finish color fit well with the seven-foot island and the overall look of the space."
The Original™ Warehouse Pendant, with the time-honored look of RLM lighting, is our most popular shade style. Whether you choose a pendant, gooseneck light, wall sconce, or chandelier, the Original™ can be customized to complement most any space.
"The silvery gray and bright white tones create a contemporary and sophisticated space," Jennifer says. "This palette is balanced by the elegant rich, dark wood and black accents throughout. The lights are the best feature of the kitchen."
Photos courtesy of Blu Skye Media, Inc.