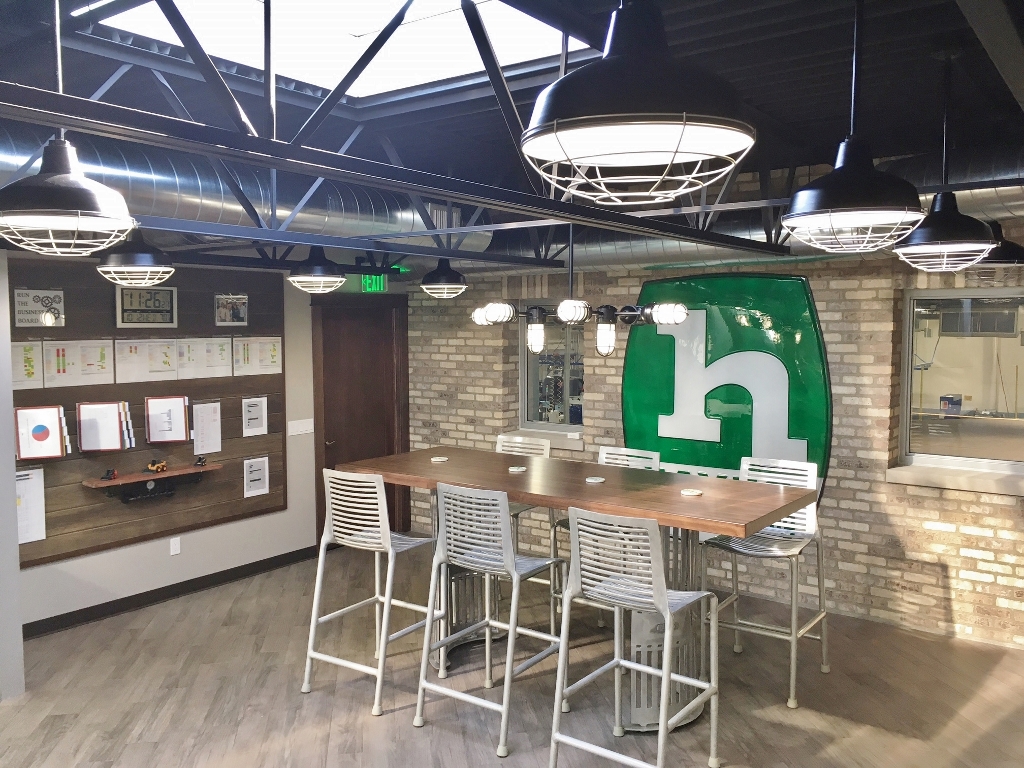 Barn Pendant Lighting Gives Nod to Manufacturing Roots
Nothing warms our heart more than a great American success story. Barn Light Electric started in a garage where our owners rewired and refinished vintage gooseneck and barn pendant lights to sell. Fast forward a few years and today we're handcrafting vintage-inspired lights in a 60,000-square-foot facility and shipping them worldwide.
Today's Featured Customer had similar humble beginnings. Hayes Manufacturing started in a garage more than 40 years ago and today makes state-of-the-art drive and flywheel couplings in its Fife Lake, Michigan, headquarters. The five owners and partners recently remodeled a storage space in their plant to create an executive office suite and conference area.
"Originally, this space was for cardboard storage and had all the ambiance you would imagine would come with that," says Penny Challender, chief financial officer and one of the owners. "The remodel was extensive and we started with an idea board. Most ideas were torn out of magazines and tacked on a wall. We painted a dozen different colors on the wall and we all voted."
The consensus was a vintage, industrial chic design that pays homage to the manufacturing roots of the company. New windows overlooking the facility and brick walls were added and sky lights bring in natural light. The highlight of the new space is the original Hayes sign that lends a definite retro factory look.
When it came to lighting their new executive suite, the team chose barn pendant lighting. The handspun character of the Avalon Stem Mount Pendant brings the perfect touch of vintage industrial style to the room.
"To be honest, we looked at many different lights and ordered lights as samples," Penny explains. "The fixtures we got from Barn Light Electric were the only ones that got a unanimous thumbs up from all five owners. The style was spot on. Simple and classic." These barn pendant lights are customized with a Black finish and a 14″ wire cage.
"We thought Black was a good choice based on the number of lights we wanted to use," says Marie McDougall, co-owner of Hayes. "They blend into the ceiling and show off the exposed metal duct work. We really like the wire cages which give them a nice industrial look."
On one end of the room, the group selected the Mercury 8-Light Chandelier to bring light to the conference table. The vintage Hayes sign that hung on the original building back in 1973 is a much-treasured focal point.
"We needed something simple that would throw enough light for us to review documents but wouldn't obstruct the sign," Penny says. "We all loved it the moment we saw it!" This American-made rustic chandelier is customized with a Black finish, standard cast guard, and ribbed glass.
"We get so many compliments on this space even though it's not completely furnished yet," Penny notes. "We like the contrast of the vintage theme of the lights with the modern feel of the glass office spaces. The lights are the accessories that can really make or break a space. We think the lights in our space are amazing!"
Photos courtesy of Hayes Manufacturing