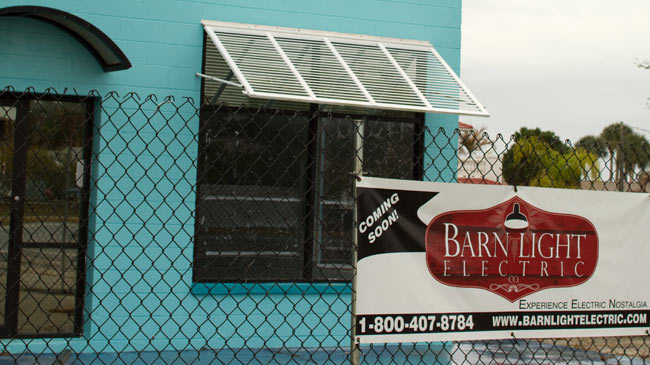 Barn Light Electric Building Starts a New Chapter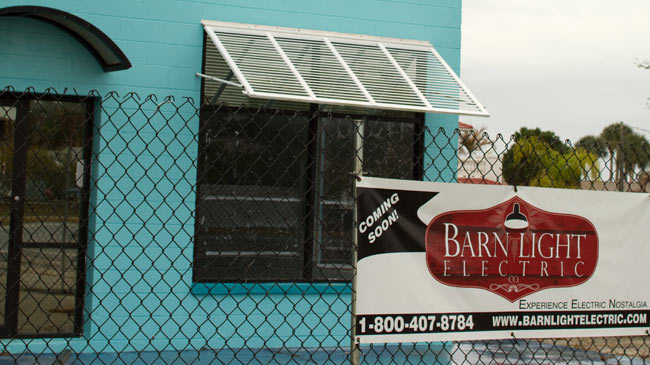 We've come a long way in the last few years. What started as a hobby in the backyard shed has grown….and grown….and grown! Last year Barn Light Electric moved into a beautiful retail/showroom in the Historic Downtown section of Titusville with high hopes of maintaining the majority of our space as a showroom. Within mere months, it became very obvious that we would need a much larger building to grow with our expanding manufacturing and product line demands. The showroom was downsized to accommodate the addition of a group of highly talented individuals that we consider the "Barn Light" family – some related, others considered as such. With this in mind, the hunt was on for a more accommodating space!

The depressed real estate market allowed for a wide range of opportunities – from vacant land to build on to ready to move-in facilities. A particularly interesting waterfront property caught our eye during our search. For years now I have affectionately referred to this 50's building as the "Ugly Blue Building," but now I could see the potential. I'm not sure if it was the "PRICED TO SELL" written in shoe polish across the front windows or the awesome paint job, but we surmounted a feat akin to climbing Mount Everest in the attempt to purchase this retro wonder.
Signed, sealed and delivered, we set in motion the process of morphing the "Ugly Blue Building" into the future home of Barn Light Electric. With frontage on the main drag in town and a back view of the iconic NASA VAB or Vehicular Assembly Building, we consulted architects, a tried and true contractor, and a gaggle of city employees in our endeavor to make the most out of a concrete block shell and enough land in the back for a residence. The work/live space concept had never been more appealing.
After cheers, groans and a few tears (from Donna, not Bryan), ground was broken. I'm not sure who was happier – our employees who will now have a place to park, or Bryan and I for the offices that we could only dream of! Typically Drew, our resident blogger-extraordinaire, keeps folks up-to-date with new products, customer submission photos, and helpful information here on the blog. But for this new chapter, I'm your guide.
Be sure to keep checking back for pictures and progress. I'll be elaborating in future blogs about our use of sustainable building techniques, the salvage of the old roof trusses for future wood flooring, and the use of previously used building materials and office furniture from a hospital demo in Oil City, PA.
For now, I'm excited we're turning another page. ~Donna