Barn Chandeliers Add Dash of Rustic Flavor to Modern Kitchen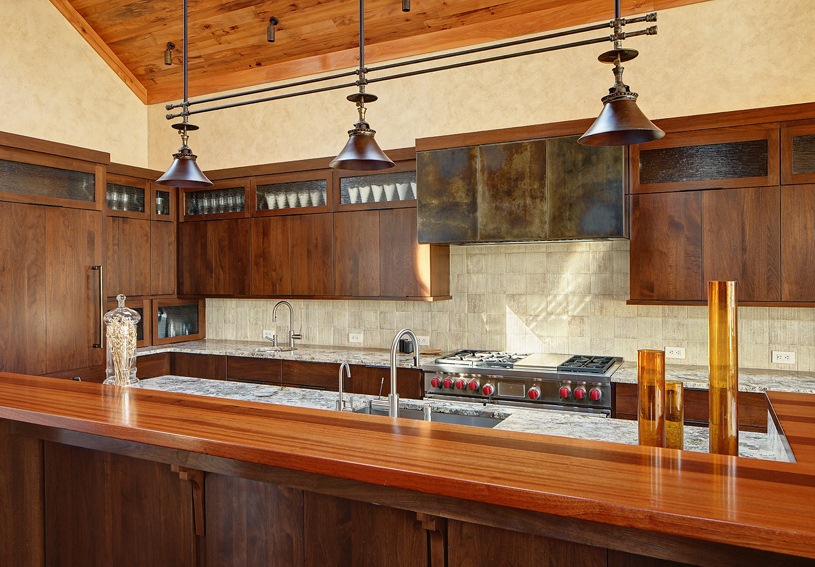 We love the look of this modern kitchen with its creamy tile backsplash and the handsome dark wood cabinetry that gives us just a peek through textured glass of what's inside. The sleek lines of the cabinet doors are uninterrupted by pulls of any sort, and the deep color of the wood is offset by the lighter counters and shiny stainless stove. A fashionable space such as this cries out for a sophisticated lighting plan over the island where guests have a front row seat to what the chef is creating. A Chandelier tends to have a more formal look than pendant lighting and are a natural choice for a modern space.
This chandelier definitely sparked our interest, however, because it has a great rustic vibe and closely resembles our Warehouse 3-Light Chandelier The Thunder, a beautiful offering in our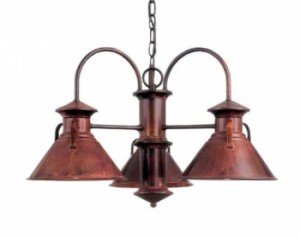 collection of Barn Chandeliers. This classic line of fixtures is influenced by the nostalgic Railroad Era and mixes warehouse shades with distinctive western characteristics. The Thunder comes in four finish options — satin steel, galvanized, rosewood, or polished brass — each offering a slightly different look.
Need something a bit larger for the dining room table? Check out the Warehouse 5-Light Chandelier The Thunder 2. This light features five shades to provide a wider span of light and comes in the same finish colors as the three-light version plus a polished brass/copper option. You'll never miss a trick if you hang one of these over the poker table in the game room!
All of our commercial-grade chandeliers can be chain hung or stem mounted for wet locations. In addition to the Barn Chandeliers, we offer rustic, vintage, and modern styles. If you have something special in mind, give our sales staff a call, and they'll help you create a light that's perfect for your space. No matter which style you choose, your new chandelier will add a great designer touch!
Top photo courtesy of Olin Redmon