Authentic NASA Light Fixtures for the Space Buff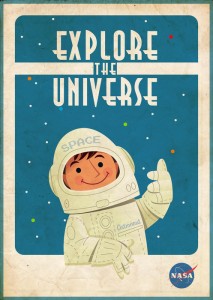 If you're big on American history, you're surely familiar with the space program. If you have ever made it to our small hometown of Titusville, Florida, there is no doubting the effect that NASA and other aeronautical programs have had on our country's past, present and future. Owning a piece of space history can be pretty hard to come by and can require some extensive searching to find just the right piece you're looking for.
There are still other ways to incorporate space memorabilia in your home. While an old astronaut helmet is a one of a kind conversation piece, what function does it serve? Some antiques may not even work well in your home, appearing awkward and pretty random. Well, if you've ever checked out vintagebarnlighting.com and our Industrial Lighting, you may have noticed a few unique light fixtures that will give you a taste of NASA's history while proving their functionality.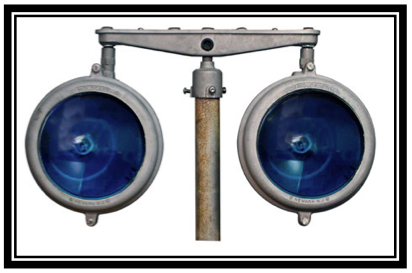 For the factory-inspired home, the Vintage NASA Tracking Station Post Light makes for an interesting piece to greet guests inside the front door or if place at the end of a hallway. The dual lights pivot/turn left and right, allowing you to spotlight the way to the kitchen or bathroom. Also included are interchangeable lenses in clear and blue (shown in blue). Choose blue lenses for modern or Steampunk homes, or leave in the clear glass if you're installing in a library or home office for traditional, overhead lighting.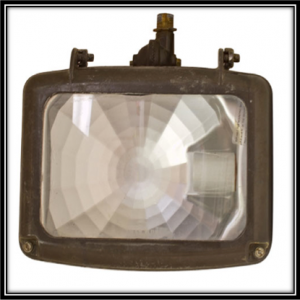 If that was a little too out of the box for you, our Vintage NASA Tracking Station Spot Light could make for an conversation-worthy vanity light. While the fixture is rated for a 200-watt bulb, a lower wattage can be used to give off a softer glow – something much desired in a powder room. You could even mount it to the ceiling and aim it at a unique piece of art or a photograph. As it's name suggests, this vintage industrial light is made for spotlighting important objects, whether it's a space shuttle or something smaller in your home. We're still offering free shipping on our vintage light fixtures too!
Top Photo Courtesy of Illustration Lovers