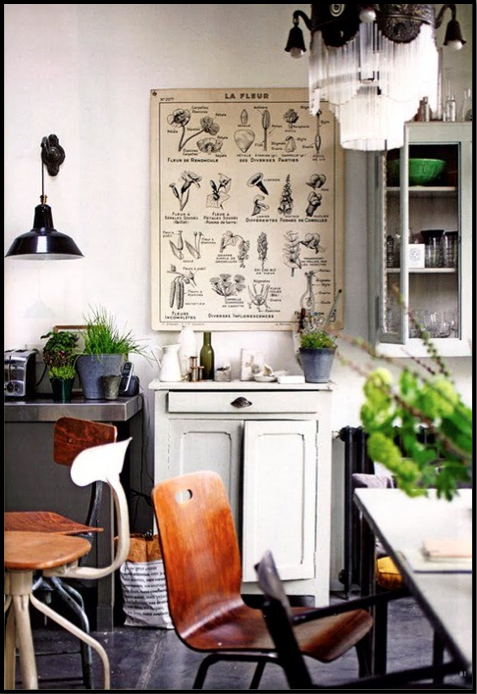 Authentic Enameled Barn Lighting | Goodrich® Union Gooseneck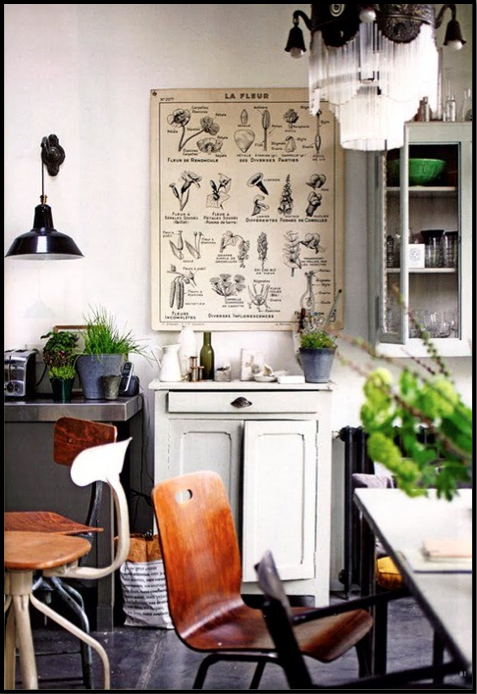 Occasionally we notice that our work areas are starting to creep into the dining room and then even some into living room. For some, it could be work that they brought home from the office, or maybe you have an in-home design studio with fabric samples and color swatches thrown about. Whether you're proud of it or not, it's probably happened at some point or another.

For those of you that work from home, sometimes keeping separate offices and living spaces isn't an option, especially if you live in a small New York apartment. Your family room may have an easel with your paints and brushes nearby, or maybe your kitchen is the home of your herb garden and other various floras. The latter seems to be the case for this room, judging by the toaster that's nestled up against an assortment of plants. No matter how you spin it, this room is full of provincial charm and character, making it unique when compared against other kitchens.
A charming vintage chandelier hangs over a larger table in the foreground, but we immediately noticed the fixture along the back. Is that a warehouse pendant on the wall? Getting a similar look in your home, studio or office is definitely easy with our selection of Goodrich® Gooseneck Barn Lighting.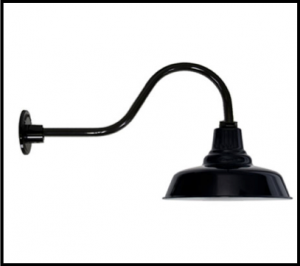 One of our favorites, as well as a new member to our selection porcelain enamel lamps, is the 14″ Goodrich® Union. This design combines vintage industrial and midcentury design to create a modern barn lamp. Shown on a matching black gooseneck arm, some may mistake the Union as an authentic warehouse or vintage barn light. The porcelain enamel finish makes it rugged and durable enough for a high traffic and industry environment, but the design makes the shade delicate and whimsical enough for a well worn kitchen/work area like we show today.
Top Photo Courtesy of Elle Decoration