Atomic Pendants That Feature Both Nautical & Industrial Styles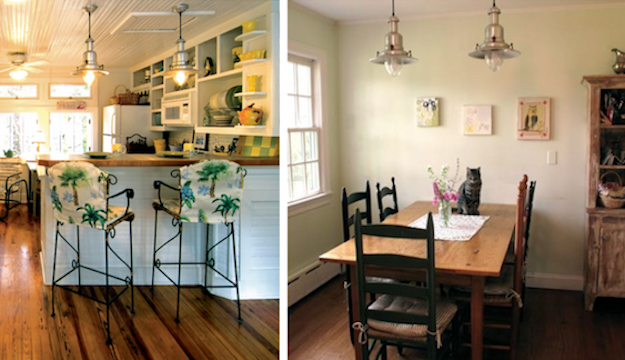 Photos Above Courtesy of: Old House Journal (Left) and Design*Sponge (Right)
Today's featured pendant is one that can adapt to numerous home's settings. Although it can't change color on demand, this light's chameleon- like abilities are just one of the many characteristics featured on the Barn Light CGU Retro Pendant! This unique fixture boasts both nautical and industrial features which helps it adapt into many of today's home's surroundings.
Our blog photos today range in style from nautical and rustic, to French and country. Although slightly larger than most kitchen and dining room pendants, the CGU Retro Pendant brings to the table far more than just a pretty shade. A frosted or ribbed glass jelly jar will allow a soft light to spread across the room and illuminate the space. The fixture is accessorized by a cast guard unit which its history stems from the Atomic Era of the 1950's. Although it's main duty is to protect the enclosed jelly jar and light bulb, today the cast guard unit finds itself being a much loved decorative element that ads a bit of fun and modern charm to your home.
The CGU Retro Pendant from Barn Light Electric is available in nearly sixty finish options including the Satin Steel, Raw Aluminum, or Patina finishes we feature today. Whether choosing to mount this fixture indoors or out, out this rustic pendant has the ability to be cord or stem mounted. Cord hung pendants allow you to adjust how far you hang the light, or gives you the ability to swag or drape it under an off center table or counter. Stem mounts, which are available in nine different overall lengths, can allow for outdoor mounting on porches or screened in patios. A stem mount is sturdier than a normal cord, and will keep the wiring dry should the light be exposed to wind, rain or other outdoor elements.
To carry the CGU look throughout your home, also consider the Barn Light Wall Mount H-CGU SS Sconce which can be full customized to match your Retro Pendant and home's design theme.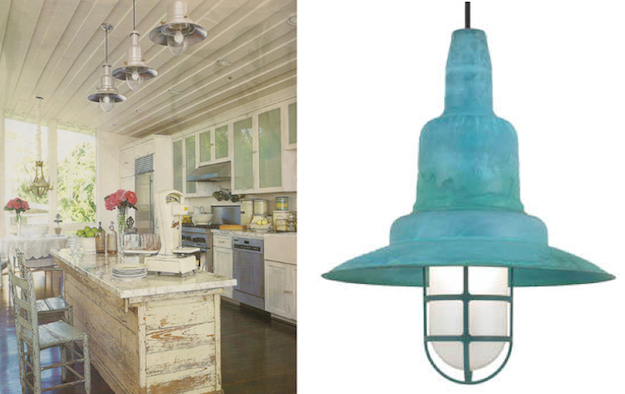 Photo Above Courtesy of: Cactus Creek Daily (Left). Shown Above (Right) Barn Light Electric 12″ CGU Rero Pendant, 33-Patina Finish, Frosted Glass, Black Cord Hung, $313.00. Prices Start At: $217.00 Each.