Architectural Brass Lighting for Your Outdoor Room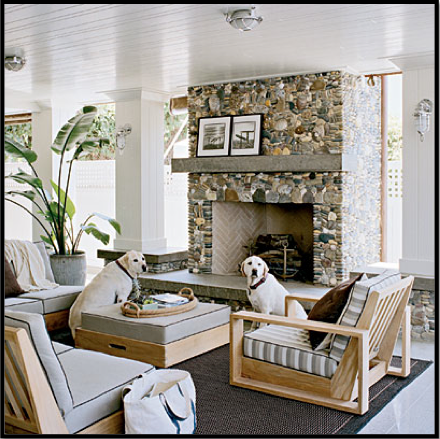 An outdoor room has almost become a necessity for those looking to purchase or build a new home. Even those that are renovating their older homes are trying to think up a way to incorporate an outdoor living area into their home. To some, it's as simple as adding a porch swing and patio furniture onto the veranda, but some look at it as a huge undertaking, adding in an outdoor kitchen or fireplace like the one seen above.

Chances are, budgeting wasn't an issue in this open and airy patio. A large stone fireplace with bricks arranged in a chevron pattern is the focal point of the cozy outdoor furnishings. If building a fireplace on your porch isn't an option, a fire pit from your local outdoor store is an affordable option, and perfect for gathering around with a mug of steaming hot cocoa. Unless it's covered in a few feet of snow, fire pits can be used for many months out of the year, even when it's a bit chilly.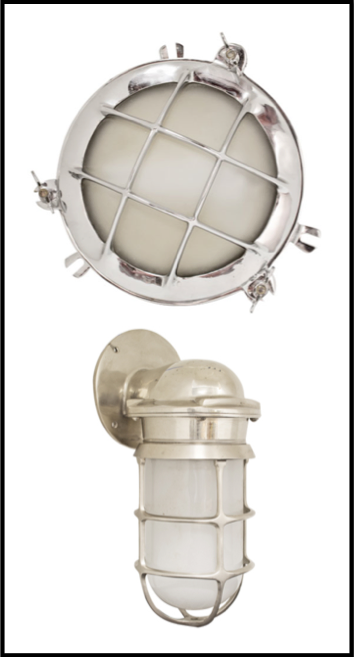 No matter how inviting your patio is during the daylight hours, you can't enjoy it when the sun goes down without appropriate lighting. The vintage coastal look is a favorite of ours, but it could just be our close proximity to the beach too. Architectural brass lighting seems like it was made to help today's homeowners incorporate a piece of the past into their home. For overhead lighting, the Marine Cover Wall Mount Light in Polished Chrome has a vintage maritime look, almost like a porthole cover on an old ocean liner. A coordinating wall sconce is also a necessity, especially if you have a nearby entryway or columns. The Backbay Wall Mount features a brass cast guard to protect from debris and moisture. An Urban Archaeology original, the Backbay comes in a beautiful Polished Nickel finish.
While these brass light fixtures are our choice for outdoor patio lighting like in the photo, they also make for the perfect vanity or reading lamp. Keep your eyes peeled, we are always adding new selections to our offerings of architectural brass lighting.
Top Photo Courtesy of Coastal Living