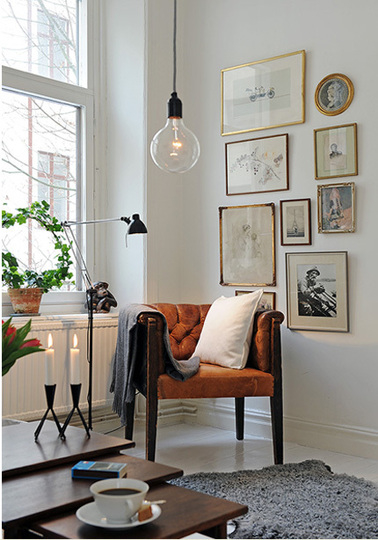 Apartment Therapy Provides Inspirational Pendant Lighting
Apartment Therapy is one of the top ranked design blogs on the web today. These days it's easy to be inspired by everything around you, and with design resources like Apartment Therapy, Remodelista or Decorology giving you easy how-to and do-it-yourself projects, you can create the room of your dreams in no time – and on little to no budget! Last week we came across an amazing photo centered around a simplistic, industrial-inspired ceiling pendant. Again, this photo comes courtesy of our friends at Apartment Therapy.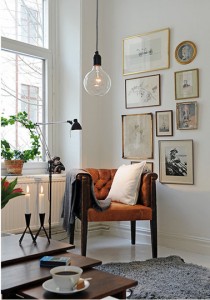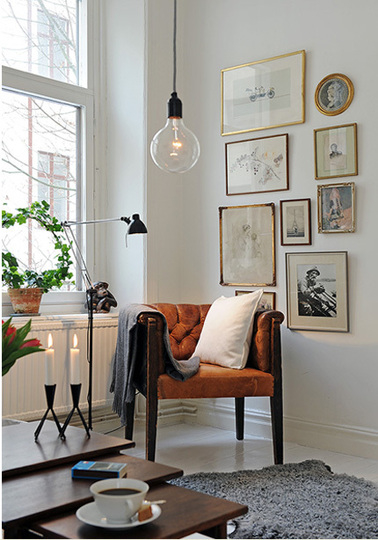 A small corner can be hard to decorate, but with a few inexpensive and unique finds, a drab space can turn chic in no time. The stark white walls, trim, and flooring provide a blank canvas when it comes to accessorizing. We suggest starting by finding your larger pieces – such as the dark rug or rich walnut 3-tiered coffee table. Unique vintage furniture can be picked up at local thrift stores or online sites such as Craigslist. After a few small accessories like plants and a collage of aged photographs, this corner went from drab to fab! This room scored big by finding their two key focal pieces – the burnt orange Victorian chair, and our favorite – the one-of-a-kind lighting element in the center.
This drop cord fixture follows the same simple, industrial style lighting that was once used in turn of the century homes and factories. How can a light blend in, yet still stick out – all at the same time? The simplistic, stream lined pendant lighting drops in from above almost unannounced. The larger than life bulb appears to be expanded to its max – like a whimsical bubble. You too can easily get this look in your home. Our Industrial Indy Pendant can be paired with one of our standard incandescent G-40 light bulbs (sold separately). Either hung alone, or hung in a group setting, this turn of the century replica is sure to spark conversation.